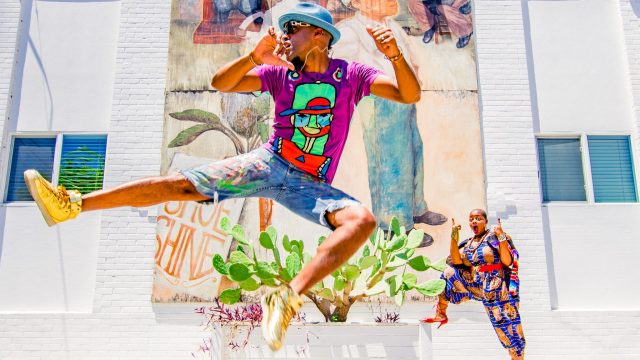 All photos by Dylan O'Connor
When we met up with hip-hop duo Riders Against The Storm at Ideal Soul Mart in East Austin, fans of their music pulled over to say hello and chat before we could even start our photo shoot – Chaka and Qi were happy to talk for a few minutes.
Riders Against The Storm are more than a husband and wife hip-hop duo from Austin: They're a musical movement embodied by the community. The portraits snapped by Dylan O'Connor capture the couple's vibrant personality and generous nature.
RAS elaborate on what it means to be embraced by Austin's music scene, their upcoming RAS DAY Festival, new album, and more below.
Keep going for the full portrait gallery.
Q&A
What's going on with Riders Against the Storm? Tell us about this event you're putting together in August.
We are getting ready to send some new music and art into the universe. Look for a new RAS single in August/September, and an album by early 2017. We are excited for our 3rd annual RAS DAY Festival in August for sure. Bringing Sun Ra Arkestra from NY is definitely a dream come true. We also have some amazing local stars gracing the stage as well: Mobley, Sip Sip, Tameca Jones, Kalu James, and more will join RAS on stage. RAS DAY is all about music, family, and community. It's a day that many look forward to every year, and we so thankful to see it continue to grow.
What can you tell us about the new album?
The new album is called Cornerstone. We have been collaborating with some new producers. It's going to be amazing! The end.
You've won the Austin Music Award for Band of the Year three years in a row. What does that mean to have that kind of recognition from the Austin music community?
It means that we made history three times in a row. Hip hop never received that recognition in the history of the awards. So, we are honored that our fans put us at the top an astonishing three years in a row. We are very grateful.
What's been your experience like performing at SXSW?
SXSW is crazy every year. The energy is great for Austin because everyone is here, and anything can happen. We ride that energy like it's Mardi Gras until the wheels fall off.
Photo Gallery
All photos by Dylan O'Connor
The post Q&A and Portrait Gallery: Riders Against The Storm appeared first on SXSW.