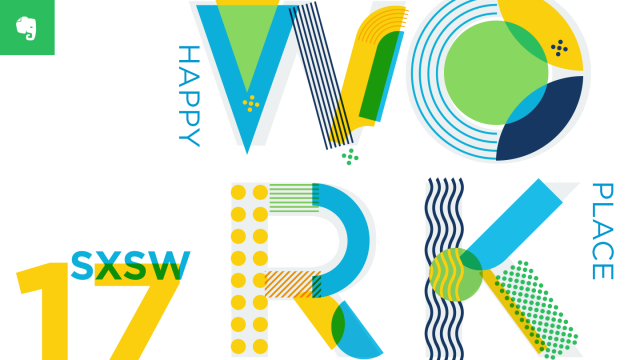 There's so much to learn at the SXSW Workplace track, and so many mind-blowing ideas to take home to your coworkers. But, how can you capture it all?
This year, for the first time, look to Evernote, the note-takers of SXSW, to give you free professional-quality notes taken live at 30+ sessions. Focusing on topics around diversity, finding happiness on the job, remote and alternative workspaces, productivity, and leadership, you'll get to take home industry leaders' latest thoughts about what it means to be human in an increasingly automated work environment.
Get the notes from Evernote and check out the list of sessions where there will be Evernote note-takers.
Look for note-takers in green T-shirts from Evernote at the SXSW Workplace track. If you see the note-takers at work taking notes, don't be offended if they don't wave back. But if you see them out and about, say hello and you could win some fun prizes.
Evernote encourages you to join the public notebook online and grab the notes from the sessions that inspire you. Share them with friends and colleagues, then work together to turn ideas into actions.
Are you taking notes at SXSW? Use Evernote to share your words with others too! Simply create a public link and share it with @Evernote on Twitter. They'll include your notes in their notebook so others can view your thoughts and impressions.
See you at the SXSW Workplace Track!
Content and image provided by Evernote
---
Related News:
The post Get SXSW Workplace Track Session Notes From Evernote, The Event's Official Note-Taker appeared first on SXSW.