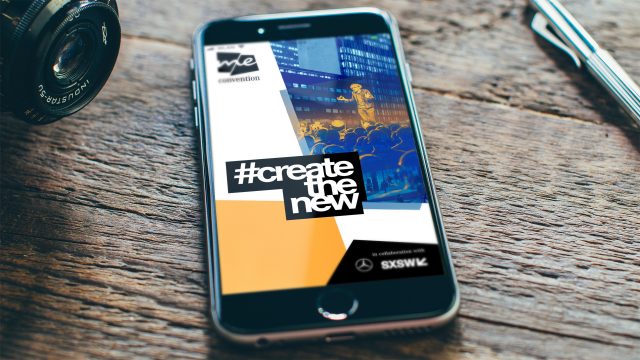 Ready to shape the future? You're in luck because it all kicks off in Stockholm at the 2018 me Convention this September 4-6 and we have the inside scoop.
The me Convention, a collaboration between Mercedes-Benz and SXSW, presents a unique cross-cultural event for creatives from across the globe to come together for a critical dialogue about the future. This year's event hosts 100+ speakers representing leaders and pioneers across art, music, technology, and science. Programming will address recent developments regarding five essential event themes: New Society, New Leadership, New Economies, New Creativity, and New Bionomics.
Can't be in Stockholm? Join us via @sxsw official social media channels this week for exclusive coverage. Go behind-the-scenes of special events from the Startup Cities Track to premiere art installations and then head straight to the front row of performances and conference talks.
Programming highlights include ABBA star Björn Ulvaeus; Grammy Award-winning musician Annie Clark (St. Vincent); Ana Arriola (Design Director for AI/Research & Bing, Microsoft); Frank Warren (Founder, PostSecret); Xin Liu (Artist, Engineer & Curator, MIT Media Lab); Steve Horowitz (VP Engineering, Snapchat); Claire L. Evans (YACHT); hacker and tech magician, Tom London; and many more.
Browse Day 1 highlights below and be sure to follow @sxsw on Twitter and Instagram along with @meconvention and #createthenew for the latest coverage.
Day 1 Snapshot: September 4
Day one of the me Convention kicks off on September 4 with an Exploration Day of the world-class art, design, and architecture scene of Stockholm. Various roaming tour buses will head out to explore urban hotspots, sample Sweden's sizzling startup scene, and journey into the city's museums – all before diving into the conference the next day.
The evening begins with a special book launch party for Sissel Hansen, the Danish founder of the publishing company Startup Guide. Hansen will discuss her new book Startup Guide Stockholm which documents everything you need to know to make it within this entrepreneurial ecosystem.
The Fotografiska Museet, housed in an old customs building directly on the waterfront in the city's docklands, will play host to the me Convention Opening Ceremony. Following a welcome address from Anna Gissler, CEO of Stockholm Business Region, me Convention participants will enjoy a special performance by German DJ and record producer Felix Jaehn.
If you're in Stockholm, grab your badge at the Mercedes Pop-Up Store from 10am–7pm at Regeringsgatan 65. Then make sure you download the official mobile app to stay up-to-date on programming details and submit your RSVPs to mentor sessions, workshops, and guided tours. Available now for Android and iOS.
SXSW is pleased to join Mercedes-Benz once again to host me Convention as an evolution of its mission to help creative people achieve their goals. Stay tuned for Day 2 highlights and continued social media coverage from Stockholm!
Photo courtesy of me Convention
The post Follow Along with SXSW at the 2018 me Convention in Stockholm from Sept 4-6 appeared first on SXSW.