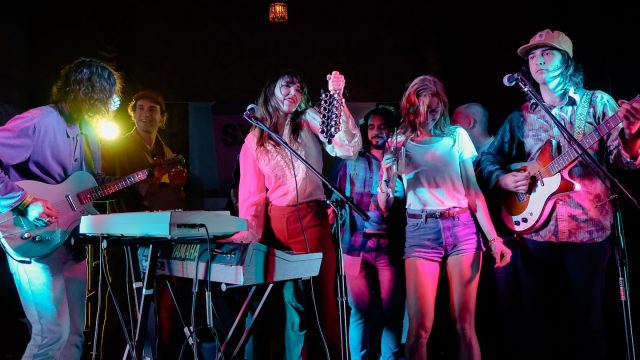 The SXSW Music Festival invites artists from all over the world to Austin, Texas for a week every March to elevate their musical careers by performing in front of industry professionals and savvy fans. SXSW selects the best entries from the thousands of Showcasing Artist applications we receive each year to form the core of the festival. To help our artists best represent themselves in their application, we've asked members of the SXSW Music Festival Team to zoom in on specific fields of the application and provide some helpful tips on how to best fill them out. In addition to these great pointers, take a look back at last year's tips for more general advice on what makes up a great application.
Showcase Application Tips
Include Relevant Press
"Throughout the application process, assume that we're not familiar with your act. Be sure to include a few current and relevant press links which you feel are educational or frame you and your music in the correct way. A great interview in a small media outlet can be just as valuable, or even more so, than a brief mention in a large one." – James Minor, Head of Music Festival
Hone Your Biography
"Submitting a clear, thorough, and succinct artist biography serves two key purposes. Of course, the music festival programming team wants to know who you are, where you come from, and where you're going so we have some context when making a decision on your application. Beyond your application, if you are invited to be an official SXSW Showcasing Artist our marketing team will reference your biography in our own campaigns leading up to the music festival. Because of this, it's very important your biography reflect how you want your band and music to be described." – Rory Burbeck, Music Festival Programmer
Not Every Field Will Apply
"We're not expecting every artist to be the shiny finished article, so if you're aren't able to fill out every field, have no fear. What we're looking for is as much information as possible about the artists to help formulate our decisions, so at the beginning, we ask for everything. For example, Soundcloud can be a really valuable platform for us when reviewing some applications, however if your music is only on Spotify and Apple Music, that won't rule you out of contention. As long as we can access the core information about the artist, hear their music and see how their music is engaging with the public, you're in a good spot." – Casper Mills, Music Festival Programmer
Don't Skip the YouTube Link
"Providing us a link to your YouTube channel can be invaluable for us when we are evaluating. It allows us to see many different things. We check out any awesome videos you may have made – proving that you are taking the steps to be seen as a professional musician complete with music videos. But also if you have live footage posted that really helps us get an idea of what to expect from your live performance. And of course, seeing how many views you have on videos is further evidence of your fan engagement." – Stacey Wilhelm, Senior Manager Music Festival
Features On Curated Playlists
"Music consumption is constantly evolving and right now playlist placements are crucial to your development. Today a feature on a hot playlist is just as valuable as a feature in a major publication. So, if you have been featured on any playlists make sure you include a link in your application." – Brian Hobbs, Music Festival Programmer
Apply to Showcase at the 2019 SXSW Music Festival
Apply to showcase before the October 28 deadline to be considered for the 2019 SXSW Music Festival. Performing at SXSW can provide a platform to raise the profile of your project, as well as offer networking opportunities with fellow music industry professionals across all disciplines.
Attend SXSW 2019
Join us for SXSW 2019 – register to attend by Friday, October 26 and save. Reserve your lodging through SXSW Housing & Travel for the best available rates for hotels close to the action. If you need a helping hand to figure out which badge is right for you, try taking our Tracks quiz to find out which credential suits you best.
Follow us on Facebook, Twitter, Instagram, and SXSW News for the latest SXSW coverage, announcements, application tips, and updates.
NoMBe – Photo by Shannon Johnston
The post 5 Showcase Application Tips from the SXSW Music Festival Team: Final Deadline Oct. 28 appeared first on SXSW.