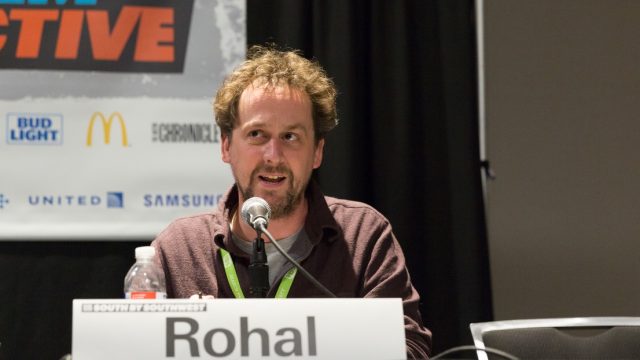 At SXSW 2018 we celebrated the 25th Edition of the SXSW Film Festival and had the pleasure of sharing stories, memories, and reflections from our distinguished alumni. We had a blast telling these tales and want to keep the party going! Today we spotlight Todd Rohal.
Rohal has screened six films at SXSW in addition to acting in 2007 World Premiere selection Hannah Takes the Stairs with numerous SXSW Film 25 alumni including director Joe Swanberg, co-writer Greta Gerwig, and Ry Russo-Young. From the years 2002–2017, the festival screened Hillbilly Robot (2002), The Catechism Cataclysm (2011), Nature Calls, (World Premiere, 2012), Rat Pack Rat (2014), Uncle Kent 2 (World Premiere, 2015), and in 2017 Rohal took home the Midnight Short Jury award for The Suplex Duplex Complex.
Read his SXSW journey here:
"I first attended SXSW in 2002 with a short film called Hillbilly Robot. Matt Dentler called to tell me they were programming the short and it was incredibly exciting for me. Sadly, the screening didn't go so well. Other filmmakers in the shorts block were patting me on the back and saying, 'Hey, keep trying, buddy. Maybe the next one will be better'…but one audience member totally LOVED it and that was Kent Osborne.
I've been lucky enough to screen almost all of my work at SXSW and have met so many talented people year after year. It's unlike any other place for me. I remember the wild energy of the Hannah Takes the Stairs premiere at the Paramount and Mark Duplass elbowing me when the audience laughed at my lines…and me telling him to knock it off. I remember a journalist passing out into my girlfriend's lap during a screening of a bloody wrestling documentary called The Backyard. I remember the thrill of watching an audience want to kill Caveh Zahedi after his screening. I remember sitting with friends watching Janet Pierson interview Pee-Wee Herman and thinking how weird and wonderful that was. It was really something special to be back at SXSW a few years ago with a movie Osborne and I made called Uncle Kent 2. We had met there 15 years prior and watched a lot of people's careers take off. After our first screening someone in the audience saw us outside and came up to us and said: 'Hey, keep trying, guys. Maybe the next one will be better.'"
Join Us For SXSW 2019
Register and book your hotel now to save! The Film Badge gets you primary access to all SXSW Film events including Film Keynotes and Featured Sessions, world premieres, round tables, workshops, parties, and more. Over the course of nine days, the SXSW Film Festival hosts over 450 screenings! Film registrants also have primary access to Convergence events, including the Comedy Festival and nine unique conference tracks, as well as secondary access to most Interactive and Music events.
Follow us on Facebook, Twitter, Instagram, and SXSW News for the latest SXSW coverage.
See you in March!
Heavy Metal Parking Lot 30th Anniversary – Photo by Jessica Ann Huff
The post Todd Rohal – SXSW Film Festival Alumni Stories appeared first on SXSW.