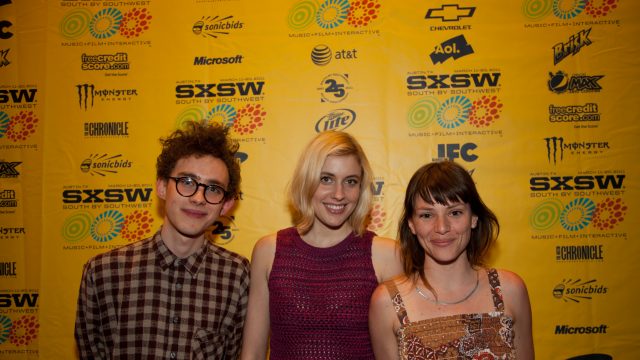 To commemorate the 25th edition of the SXSW Film Festival, we will spotlight careers launched, artists discovered, powerful performances, and more from our alumni with this week's featured artist, actress, writer, and director Greta Gerwig.
Gerwig appeared in seven narrative feature films at SXSW. She frequently collaborated with previous #SXSWFilm25 featured artist Joe Swanberg, first appearing in LOL (2006), then Hannah Takes the Stairs (2007), followed by co-directing and starring in Nights and Weekends (2008).
Having appeared in over 30 films, Gerwig aslo wrote Frances Ha and Mistress America, two celebrated and popular films. Recently, Gerwig made her feature directorial debut, with Lady Bird, which premiered at the Telluride Film Festival to rave reviews. Lady Bird will be released theatrically in November via A24.
We are privileged to share her #SXSWFilm25 story with you.
"I would not have a career in film without SXSW. I first came to the festival during my senior year in college, 2006, and spent five days watching movies and realizing that there was a true community being formed in independent cinema. Over the course of four different festivals I met Joe Swanberg, Ti West, Ry Russo-Young, Aaron Katz, Josh Safdie, Todd Rohal, Amy Seimetz, Allison Bagnall, Mark and Jay Duplass, Andrew Bujalski, Lena Dunham, Craig Zobel, and so many more people who inspired me and became my collaborators and friends.
What SXSW gave me, as a young actor/writer/director/producer, was a sense of belonging and a place to be heard. That is more valuable than anything else for a young artist, the knowledge that you are not doing it alone or in a void. The commitment that SXSW had to showcasing the work of people who were truly unique allowed me to trust in my own vision and path, and I will be forever grateful."
Stay tuned to SXSW each Thursday for more 25th edition stories.
Join Us For SXSW 2018
Grab your Film Badge today for primary access to all SXSW Film events including world premieres, roundtables, workshops, and parties. Register to attend by Friday, October 20 and save before prices go up in November. Make your hotel reservations through SXSW Housing & Travel for the best available rates. We hope to see you in March!
Follow us on Facebook, Twitter, Instagram, and SXSW News for the latest SXSW coverage, announcements, application tips, and updates.
World Premiere of The Dish & The Spoon – Photo by Erin Fotos
The post #TBT: 25 Years of SXSW Film Festival – Greta Gerwig appeared first on SXSW.