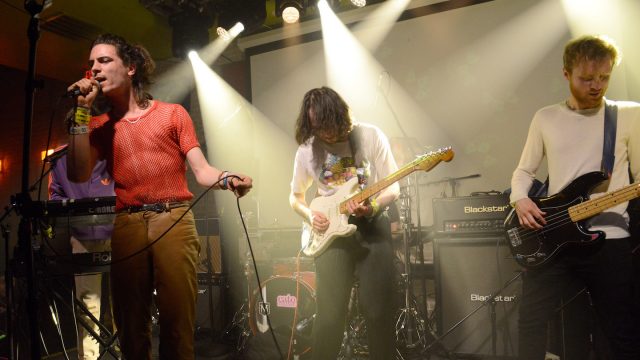 Showcasing Artist applications are open for SXSW 2018, and here are few good reasons why you should apply now, before time winds down any further. If you've already made your mind up to apply, you will want to read tips on how to make the most of your application from the SXSW Music Festival team. I also recommend watching this helpful video on how to fill out the Showcasing Artist application.
5 Reasons to Apply to Showcase
Find a New Audience
At SXSW 2017, 75.1% of domestic Showcasing Artists listed expanding their audience as a main focus of performing, and winning over new fans was the most popular reason to perform for both domestic and international artists. SXSW is unique from many other music industry events because our audience is not solely comprised of people attending for music, which means there are a lot of fresh ears that have yet to hear you. In fact, in the past few years we have continued to see more and more SXSW Interactive attendees checking out music showcases in the evenings after conference programming.
Attend the SXSW Conference
Less than half of the Showcasing Artists who perform at SXSW indicate that they attended Music sessions at the 2017 SXSW Conference. We understand that many of the bands performing keep very busy schedules during the event, and that extra time can be the most elusive resource, but these conference sessions are highly informative about the future of the music industry. We highly recommend taking some time before arriving to go through the Conference schedule and identify any sessions that may be able to take your career to the next stage.
Connect with Fellow Musicians
This is the second most common reason for performing at SXSW cited by domestic artists, and third with international artists. More than 2,000 Showcasing Artists performed at SXSW this past March, and this large pool of artists makes SXSW an ideal place to meet future collaborators. If this is one of your goals, we recommend researching other artists you may want to meet by staying on top of SXSW news and our Schedule page, and attend as many events as possible while you're here.
Furthering Your Career Goals
SXSW Showcasing Artist goals include: find sync opportunities, find distribution, sign to a label, sign with an agent, get attention from concert and festival promoters, find a manager, and many more. With such a heavy music industry presence, SXSW is an ideal place to achieve these goals. By taking an account of what your artistic project needs to go to the next level, and staying focused on your performance, you stand the best chance of success. These opportunities are the reasons why 78% of domestic SXSW 2017 artists are planning to apply for SXSW 2018.
Make New Friends
Don't hold it against us for ending on a sentimental note. SXSW brings together tens of thousands of people annually to create, explore, discover, and celebrate each other's ideas and passions. While not every artist gets a million dollar record deal or picked up for support on a stadium tour, everyone gets to participate in this large creative environment and make new connections with other like-minded individuals. The SXSW community that sustains the event is the strongest and most accessible asset offered to you if you perform or attend. In fact, most people attending SXSW start getting to know other attendees at the airport on the way to Austin, long before they even set foot in downtown Austin.
In addition to it being a great time to apply to showcase at the 2018 SXSW Music Festival, now is also the best time to register to attend SXSW 2018 and book your hotel.
SWEAT – Photo by Robert A. Tobiansky/Getty images for SXSW
The post 5 Reasons to Apply to Showcase at SXSW 2018 [video] appeared first on SXSW.