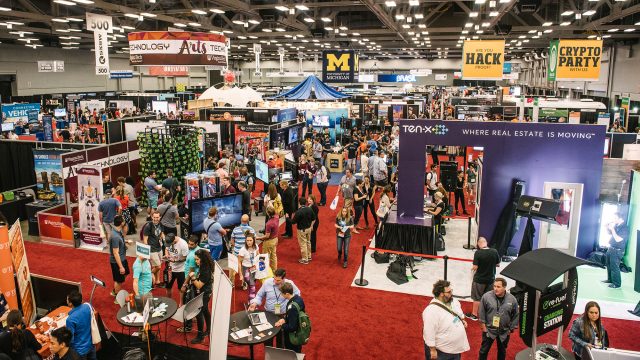 The SXSW Trade Show is here! With the most exhibitors, show floor space, and international representation to date, SX's largest exhibition offers more opportunities for discovery than ever before. In no other place at SXSW will you find more creative, forward-thinking businesses, and individuals together under one roof from March 10-13.
Along with our widely diverse lineup of exhibitors, the Trade Show is home to many exciting areas and stages spanning all areas of Interactive, Film, Music, and more. Check out a preview of what we have in store for you!
Next Stage
Next Stage Presented by Playbook takes place within the Trade Show in the Austin Convention Center, Exhibit Hall 4. Drawing inspiration from the creative industries, Next Stage features presentations and performances that span the overall themes of Interactive, Film, and Music. These sessions showcase the inventive, emerging talent participating at SXSW, including cross-industry panels with diverse speakers and intimate showcases from official SXSW Showcasing Artists.
Discovery Stage
Discovery Stage Presented by CommonGenius features daily curated content. Stop by each day to hear sessions on angel investing, branding and marketing, media and journalism, VR, blockchain and cryptocurrency, and more.
Come and Capture
The nature of filmmaking is evolving, constantly transformed by developing technologies. Come & Capture provides a platform for manufacturers, filmmakers, and app developers alike to highlight their cutting-edge practices for creating digital content. Here you'll find yourself at the intersection of technology, creation, and innovation where the most talented digital creators are discussing the future of content development and filmmaking.
Job Market + Complimentary Pro Headshots
A convenient meeting spot for innovative thinkers and equally innovative companies, the Job Market enables professionals to match their skills with 21st century, cutting-edge employers.
Have a SXSW Badge? Make sure to dress to impress for the newest addition to the Job Market — professional headshots! Open to all SXSW registrants, the SXSW Job Market is a great way to encounter opportunities that can strengthen your company, propel your career, or make meaningful connections. And now, all registrants have the opportunity to get complimentary professional-quality headshots right on the Trade Show floor!
Startup Spotlight
Running March 11 as a new addition to the SXSW Trade Show, Startup Spotlight is a casual exhibition that brings 30 of the most promising startups together in a reception setting with complimentary drinks. At Startup Spotlight, companies taking the tech world by storm get to pitch their business in a fun, relaxed environment at SXSW.
During Startup Spotlight, participants are encouraged to provide demos and showcase their innovations to attendees. Many life-changing connections happen between startups and the hundreds of attendees of SXSW – just ask Twitter, GroupMe, or Foursquare.
Startup Village
Startup Village gives center stage to the best and brightest up-and-coming businesses from all industries and sectors, including mobile apps, 3D printing, SaaS, FinTech, and more. It brings together startups, entrepreneurs, investors, and innovators alike. Exhibitors range from B2B, B2C, Bootstrapping, Business Strategy, Colleges, Entrepreneurs, Future of Money, Film, Music, Startups, and everything in between.
No matter your background or interests, the SXSW Trade Show has something that will excite you. Follow your curiosity, explore what the Trade Show has to offer and, most of all, enjoy yourself this week – see y'all out there!
The post SXSW Trade Show: Your Doorway to Discovery appeared first on SXSW.