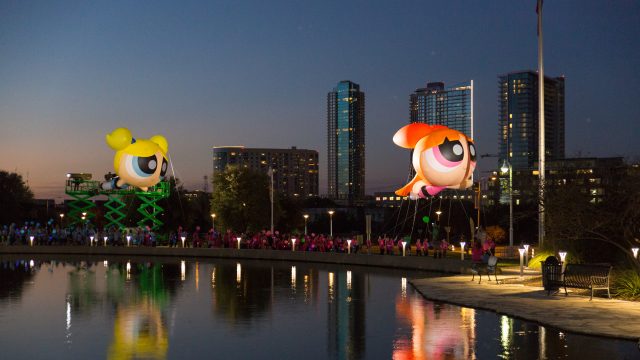 The Long Center Terrace will play host to our SXSW Outdoor Film Screening Series! Three nights of film, food and fun on the Long Center Lawn on Saturday, March 11th, Monday, March 13th and Tuesday, March 14th. Doors open at 6pm each day!
Hype!: 20th Anniversary Screening
Saturday, March 11 at 7pm
Drop into the Pacific NW in the early '90s and watch the underground music scene explode into a "grunge" media frenzy for a subculture-hungry world. "Hype!" follows the music from a few bands playing with their friends, to Sub Pop's brilliant exploitation of "the Seattle Sound," to Nirvana's "Smells Like Teen Spirit" hitting #1 on the charts. Questions of money, authenticity, and fame arise as "grunge fashion" hits the runways and a mass migration of wanna-be bands saturates Seattle. The Northwest experience is one of humor, loss, and epic irony. "Hype!" has live performances by Soundgarden, Pearl Jam, Mudhoney, and more. Seattle's own Naked Giants will perform at 7pm before the film.
Rain Contingency: Rollins Theatre at Long Center at 7pm
Cartoon Network NEW NEW NEW NEW Screening
Monday, March 13th at 8pm
Join Cartoon Network for NEW, NEW, NEW, NEW content from The Amazing World of Gumball, We Bare Bears, Ben 10 and Teen Titans Go! But don't go anywhere before the big surprise!
Rain Contingency: Hall at Long Center at 8pm
Ghost in the Shell
Tuesday, March 14th at 8pm
A female cybernetic government agent, Major Motoko Kusanagi, and the Internal Bureau of Investigations are hot on the trail of "The Puppet Master," a mysterious and threatening computer virus capable of infiltrating human hosts. Together, with her fellow agents from Section 9, they embark on a high-tech race against time to capture the omnipresent entity. "Ghost in the Shell" took the world by storm in the mid-90's, exhibiting a new dimension of anime with unprecedented, mesmerizing cinematic expression. Seamlessly merging traditional animation with the latest computer graphic imagery, this stunning sci-fi spectacle challenged the boundaries of mainstream animation.
Rain Contingency: Theatre at Long Center at 8pm
Experience 9 days, 13 screens, and 250+ Films
For nine days in March, creatives of all stripes gather for the acclaimed SXSW Film Program to celebrate raw innovation and emerging talent both behind and in front of the camera. Register today and explore the full 2017 lineup below.
The post SXSW Outdoor Screenings at the Long Center appeared first on SXSW.