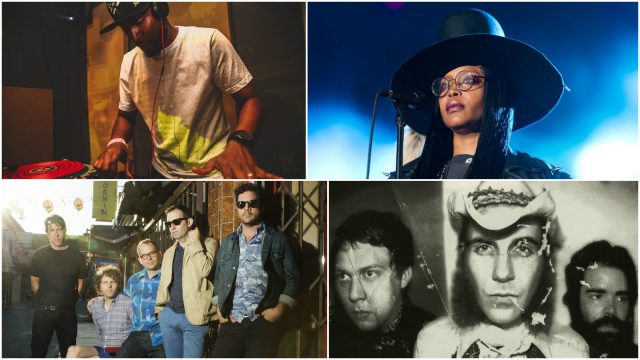 We're down to the last week before SXSW begins, and we still have more to share with you.
We're pleased to announce the addition of eight new conference sessions, including SXSW Keynote Garth Brooks; the multi-platinum country icon will exchange stories with Amazon's VP of Digital Music Steve Boom. In honor of Prince, original members of Prince's band Andre Cymone and Dez Dickerson will share memories, recollections, and insights at Birth of a Purple Nation, veteran rapper T.I. will discuss his career as it continues to hit new highs in the wake of his politically charged new material.
Let's move focus to this week's Showcasing Artist announcement. Highlights include R&B star Tinashe, dance-punk group !!! (Chk Chk Chk), reunited rockers Lift to Experience (who will will perform the reissue of their cult classic album The Texas-Jerusalem Crossroads), Ryan Adams, 2016 breakout dream-pop singer Japanese Breakfast, DJ Lo Down Loretta Brown aka Erykah Badu, and more. We also released details for the SXSW Music Opening Party sponsored by Sensu this week – that's set for Tuesday, March 14 at Maggie Mae's and Maggie Mae's Rooftop.
Many showcase announcements stood out this week too. Flip through our presented showcases like Synthesize Love with Moogfest, BBC Music, House of Vans, and more.
If your eyes are getting tired and you'd rather use your ears, we've got the remedy. Check the artists out on our Spotify playlist and our radio channel SXSWfm.
Time is almost up to plan out the logistics of attending and the first step is to register for a SXSW Music Badge. The badge provides you with primary access to Music Festival showcases, industry-focused Conference sessions, networking events and parties, the Trade Show, SXSW Gaming, and more, plus secondary access to most Film and Interactive events.
New 2017 Conference Additions (Music)
Music Keynote Conversation: Garth Brooks and Steve Boom
Digital Revolution: A Look at Music's New Frontier
Birth of a Purple Nation
Featured Session: G-Funk
Conversation with DMC
Conversation with Mike Posner
Conversation with Residente
Conversation with T.I.

New 2017 Showcasing Artist Additions
!!! (Chk Chk Chk) (Brooklyn NY)
[istandard] Producer Experience (Brooklyn NY)
9th Wonder (Winston-Salem NC)
Ryan Adams (Los Angeles CA)
AHEE (Los Angeles CA)
Jeff Akoh (Abuja NIGERIA)
Alexandre (Austin TX)
American Sharks (Austin TX)
…And You Will Know Us by the Trail of Dead (Austin TX)
ANoyd (Bloomfield CT)
Ash Koosha (London UK-ENGLAND)
Backyard Band (Washington DC)
Banks (Los Angeles CA)
Be. On. It. (Indianapolis IN)
Beat Imprint (Austin TX)
Amy Becker (London UK-ENGLAND)
Betty Who (Los Angeles CA)
Bigg John Of East 35 (Austin TX)
Billyracxx (Austin TX)
Bitter Pills (Phoenix AZ)
The Black Angels (Austin TX)
The Black Moods (Tempe AZ)
Oscar Black (Hartford CT)
Timothy Bloom (Los Angeles CA)
Michael Blume (New York NY)
Bobo Swae (Tupelo MS)
BOOMscat (Washington DC)
Russell E.L. Butler (Oakland CA)
Chris Cartier (Bronx NY)
Neko Case (Tacoma WA)
Louise Chantál (London UK-ENGLAND)
Cheetah Chrome (Austin TX)
Gary Clark Jr (Austin TX)
CMC Da GUTTAH (Austin TX)
Geno Cochino (Los Angeles CA)
C Roy (Los Angeles CA)
Jay Cube (Washington DC)
Denzel Curry (Miami FL)
CymcoLé (New York NY)
Deuce Eclipse (Oakland CA)
Nina Diaz (San Antonio TX)
Rebel Diaz (Bronx NY)
DJ C. DeVone (New York NY)
DJ Caleeb (Chicago IL)
DJ Chose (Houston TX)
DJ Diggy Dutch B2B Casual T (Houston TX)
DJ General Mealz (Atlanta GA)
DJ Hella Yella (Austin TX)
DJ Jimmy Jatt (Lagos Island NIGERIA)
DJ Kota (Osaka JAPAN)
DJ Lo Down Loretta Brown aka Erykah Badu (Dallas TX)
DJ Logan Garrett (Murfreesboro TN)
DJ Miss Milan (Queens Village NY)
DJ Money (Washington DC)
DJ Mr King (Akron OH)
DJ Mz Rico (Houston TX)
DJ She Real (Fort Worth TX)
Dos Santos: Anti-Beat Orquesta (Chicago IL)
Dreezy (Chicago IL)
DVBBS (Toronto CANADA)
Dwagie (Tainan TAIWAN)
EARTHGANG (Atlanta GA)
Electric Guest (Berkeley CA)
ELHAE (Atlanta GA)
Eliminate (Los Angeles CA)
El Indio (Sacramento CA)
Karen Elson (Nashville TN)
Evolfo (Brooklyn NY)
Eyelid Kid (Austin TX)
Faarrow (Los Angeles CA)
FlexinFab (Dallas TX)
Francis and The Lights (Oakland CA )
Froth (Los Angeles CA)
Go DJ JB (Austin TX)
Kat Graham (Los Angeles CA)
Grandmaster Flash (Bronx NY)
Guilla (Houston TX)
Jack Harlow (Louisville KY)
Morgan Heritage (Tallahassee FL)
Ellie Herring (Lexington KY)
Hoodtronics (Austin TX)
Hosted by Rex Domino (Portsmouth UK-ENGLAND)
Imaj (Dallas TX)
Impxct (Tupelo MS)
ImSoMaleek (New York NY)
INSOMNIAC LAMB$ (Cincinnati OH)
J.I.D (Atlanta GA)
Jace (Atlanta GA)
Jameszoo (Den Bosch NETHERLANDS)
Jay IDK (DMV MD)
Joolz Jones (Greenwich Village NY)
Topaz Jones (Montclair NJ)
JSTJR (Los Angeles CA)
Vic Jun and The Philharmonik (Sacramento CA)
Keeper (Austin TX)
DJ Kelly G (New York NY)
KFhox (New York NY)
Khaled M (Chicago IL)
King Kanja (Nairobi KENYA)
King Visionary (Detroit MI)
Kohinoorgasm (Berkeley CA)
Kevin Krauter (Indianapolis IN)
Talib Kweli (Brooklyn NY)
Kyle (Ventura CA)
Lafame (Miami FL)
The Late Ones (Laie HI)
LaTour (Sacramento CA)
Leather Girls (Austin TX)
Hamilton Leithauser (Brooklyn NY)
Ari Lennox (Washington DC)
Lift To Experience (Denton TX)
Lil Bizzy (Cleveland OH)
Lil Yachty (Atlanta GA)
Loamlands (Durham NC)
Lo Moon (Los Angeles CA)
Amber London (Houston TX)
Alice Phoebe Lou (Berlin GERMANY)
Lute (Charlotte NC)
Ma-less (Orlando FL)
Mad Classy (Austin TX)
Magic Giant (Los Angeles CA)
Mamak Khadem Ensemble (Los Angeles CA)
Otown Marco (Orlando FL)
Bethany Martin (Austin TX)
Marty B. (Champaign IL)
Mathias (Washington DC)
Mélat (Austin TX)
Justin Miller (New York City NY)
Mod Sun (Bloomington MN)
Mohsen Namjoo (New York NY)
Maurice Moore (Ottawa CANADA)
Kevin Morby (Los Angeles CA)
Mozzy (Sacramento CA)
MUNA (Los Angeles CA)
Ras Nebyu (Washington DC)
Nef The Pharaoh (Vallejo CA)
The Nimbus (Austin TX)
Noname (Chicago IL)
not sorry (Los Angeles CA)
NO WIN (Los Angeles CA)
Noyz (Brampton CANADA)
Outernational (New York NY)
Pharmakon (New York NY)
Professor Toon (Durham NC)
Q.GUYTON (Houston TX)
Rare Essence (Washington DC)
Joey Ray (Washingtonville NY)
Reid Speed (Los Angeles CA)
Reesa Renee (Washington DC)
The Resistance (Austin TX)
Jessie Reyez (Toronto CANADA)
Izaq Roland (San Antonio TX)
Staci Russell (Austin TX)
Saba (Chicago IL)
Logan Sama (Brentwood UK-ENGLAND)
Bob Schneider (Austin TX)
Chris Scholar (Richmond VA)
SDotBraddy (Miami FL)
ShaqIsDope (Toronto CANADA)
Sharkweek (Austin TX)
Shifty Eyes (Sylvan Lake AB)
Shubzilla (Seattle WA)
The Skins (Brooklyn NY)
Jesse Slayter (Lafayette LA)
Sleigh Bells (New York NY)
Slim Guerilla (Houston TX)
Starlito (Nashville TN)
Huw Stephens (Cardiff UK-WALES)
Stimulator Jones (Richmond VA)
Thee MVPs (London UK-ENGLAND)
Third Eye Blind (San Francisco CA)
Tinashe (Los Angeles CA)
Tokyo Police Club (Newmarket CANADA)
Trouble (Atlanta GA)
TYuS (Portland OR)
Ugly God (Houston TX)
Ultimate Rejects (Port of Spain TRINIDAD AND TOBAGO)
Undergravity (Houston TX)
Valee (Chicago IL)
Vanic (Vancouver CANADA)
Vic Crezée (Amsterdam NETHERLANDS)
The Wealthy West (Austin TX)
Wrestlecircus: Live Pro Wrestling w/ Matt Hardy, Matt Riddle, Brian Cage, Sammy Guevara, Jeff Cobb, & more (Austin TX)
WYBMF (Dallas TX)
xBValentine (Georgetown TX)
YBS Skola (Baltimore MD)
Youth Code (Los Angeles CA)

9th Wonder by Lourdes Sukari, DJ Lo Down Loretta Brown aka Erykah Badu by Paul R. Giunta, American Sharks by Emmett Kerr-Perkinson, !!! (Chk Chk Chk) photo courtesy of the artist
Everything subject to change
Photo credits, clockwise from top left:
9th Wonder by Lourdes Sukari
DJ Lo Down Loretta Brown aka Erykah Badu by Paul R. Giunta
Lift To Experience photo by Breanne Trammell
!!! (Chk Chk Chk) photo courtesy of the artist
The post SXSW Music Weekly Round-up: Garth Brooks Keynote, Ryan Adams, DJ Lo Down Loretta Brown appeared first on SXSW.