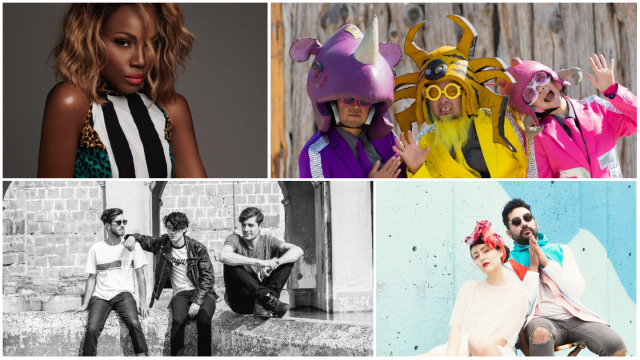 We're less than 30 days away from SXSWeek! I'm sure you're already making plans for things to do in Austin and which artists to check out, but before your schedule is set, we still have plenty of great programming additions to announce.
New Music Tracks sessions this week include Demo Listening Sessions and a new College Radio Series of sessions. Demo Listening Sessions offer a unique opportunity for selected musicians to get direct feedback from seasoned music professionals who listen to demos as part of their job. Our College Radio Series will take place on Saturday, March 17 – focusing on all aspects of the college radio world.
Highlights from the 100+ Showcasing Artists added this week include Manchester-based grime MC Bugzy Malone, Sub Pop noise punks METZ, effervescent electronic pop act Salt Cathedral, Rough Trade Records breakout MC Princess Nokia, indie pop husband and wife duo Tennis, Brazilian eclectic soul band Liniker e os Caramelows, and more.
It's getting down to crunch time — register for your Music Badge now and book your hotel while there are still great options available. The Music Badge provides you with primary access to hundreds of showcases and sessions, secondary access to Interactive and Film Conference Tracks, and much more.
We know the SXSW Schedule is jam-packed with musical goodies. To help unpack it, we curate these tools for musical discovery: listen to the SXSWfm Specialty Show and Spotify Weekly Round-up playlist to discover artists from this announcement, and check out our YouTube playlist featuring artists from all SXSW 2018 announcements. To make sure you don't miss any of the artists you're digging, be sure to add your discoveries to your favorites on the SXSW Schedule.
New 2018 Conference Additions (Music)
From Bronx To Billions: A Hip-Hop History Lesson
Don't Look Like Shit: Create Your Visual Aesthetic
Demo Listening Session 1
Demo Listening Session 2
Demo Listening Session 3
College Radio Community Building and Fundraising
Digital Witness: Embracing the Digital Age at College Radio
Extending Your Reach at College Radio
Transitioning from College Radio Into The Music Industry

New 2018 Showcasing Artist Additions
20 Somethin' Band/Tenth Child Inc. House Band (Dallas TX)
5ive (Earth TX)
Annabelle Chairlegs (Austin TX)
Astrolabio (Bogotá COLOMBIA)
B.I.P. (Plano TX)
Bekon (New York NY)
Big Tobz (London UK-ENGLAND)
Blue Lab Beats (London UK-ENGLAND)
BoomBaptist (Austin TX)
Branjae (Tulsa OK)
Brian Pounds (Austin TX)
Bugzy Malone (Manchester UK-ENGLAND)
Built By Snow (Austin TX)
C-Micah (St. Louis MO)
Cadence Weapon (Edmonton CANADA)
Calvin & Kimberly (Detroit MI)
Canon (Chicago IL)
Canshaker Pi (Amsterdam NETHERLANDS)
Che Lingo (London UK-ENGLAND)
City of the Sun (Brooklyn NY)
David Gtronic (Berlin GERMANY)
Deraj (Orlando FL)
Derek Minor (Nashville TN)
Desi and Cody (Tulsa OK)
Dessa (Minneapolis MN)
Dethgaze (Brownsville TX)
DJ Cre8 (Miami FL)
DJ D-Lite (Austin TX)
Dj Dmoney Global (Fort Worth TX)
DJ Logan Garrett (Nashville TN)
DNA Music Group (Midland TX)
Doble Porcion (Medellin COLOMBIA)
Dual Core (Austin TX)
Efekto Alakrán (Gómez Palacio MEXICO)
Flora Cash (Stockholm SWEDEN)
Gepe (Santiago CHILE)
Glassio (New York NY)
GO DJ JB (Austin TX)
Hard Proof (Austin TX)
The Hearts (Edmonton CANADA)
IDLES (Bristol UK-ENGLAND)
I M U R (Vancouver CANADA)
The Jacks (Orange County CA)
Jacoby Jerome Williams aka Brik.Liam (Dallas TX)
Jake Wesley Rogers (Nashville TN)
James Droll (Nashville TN)
Jazmine Nikao (Richmond VA)
Jenny Reynolds (Austin TX)
Jhay Cortez (San Juan PR)
John Calvin Abney (Tulsa OK)
Karol G (Medellin COLOMBIA)
King Pelican (San Antonio TX)
Kodie Shane (Atlanta GA)
The Kominas (Boston MA)
La Fame (Miami FL)
Larkin Poe (Atlanta GA)
Le Naturel (San Bernardino CA)
Liniker e os Caramelows (Araraquara BRAZIL)
Lola Tried (Austin TX)
Love Moor (Birmingham AL)
Love You Later (Los Angeles CA)
Lucia (Glasgow UK-SCOTLAND)
Lukas Nelson and Promise of the Real (Maui HI)
LuxDeluxe (Northampton MA)
Megan Davies (Nashville TN)
METZ (Toronto CANADA)
Missions (Los Angeles CA)
Money Chicha (Austin TX)
Monoloc (Berlin GERMANY)
MONXX (Peterborough UK-ENGLAND)
My Education (Austin TX)
Natalie Prass (Richmond VA)
The Neal Pollack Quintet (Austin TX)
Nikki Lane (Nashville TN)
Non Canon (Bristol UK-ENGLAND)
Overlake (Jersey City NJ)
PASTEL GHOST (Oakland CA)
Peelander-Z (Austin TX)
Pike and Sutton (Austin TX)
Plain James (Carrollton GA)
Primo (Austin TX)
Princess Nokia (New York NY)
Promise (Toronto CANADA)
Propaganda (Los Angeles CA)
Purpose (San Antonio TX)
Quinn Lewis (Nashville TN)
R.A.W. (READY AND WILLING) (Houston TX)
Raymix (Mexico City MEXICO)
Rebecca Loebe (Austin TX)
Ringo Deathstarr (Austin TX)
Salt Cathedral (New York NY)
Sam Morrow (Los Angeles CA)
Seyi Shay (Lagos NIGERIA)
SHAO (Beijing CHINA)
Skanks Roots Project (San Diego CA)
Sons of an Illustrious Father (Brooklyn NY)
Spirit In The Room (Los Angeles CA)
Stefficrown (Cali COLOMBIA)
Swimming With Bears (Austin TX)
Tennis (Denver CO)
Terminal Mind (Austin TX)
The Cowboys (Bloomington IN)
This Pine Box (Dayton OH)
Thunderpussy (Seattle WA)
Trouble Boys (Austin TX)
Umm (Los Angeles CA)
Victorious (Austin TX)
Wande (Austin TX)
wearechxsen (Austin TX)
World Rejects (Houston TX)
Wrekless Abandon (Jacksonville FL)
Xylouris White (Anogeia GREECE)

Everything subject to change
Photo credits, clockwise from top left:
Seyi Shay – Photo courtesy of the Artist
Peelander-Z – Photo courtesy of the Artist
Salt Cathedral – Photo courtesy of the Artist
City of the Sun – Photo courtesy of the Artist
The post SXSW Music Weekly Round-Up: Demo Listening Sessions, METZ, Princess Nokia, Tennis, & More appeared first on SXSW.