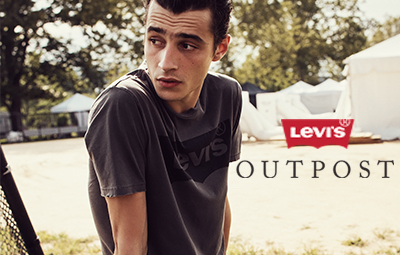 This year, SXSW is teaming up with the denim pioneer Levi's® on the Levi's® Outpost. It's a venue. It's a store. It's a tailor shop. All dedicated to originals in music, innovation, and style.
At the Interactive Festival, Levi's® will unveil—for the first time ever—the Levi's® Commuter™ Trucker Jacket with Jacquard™ by Google. In a highlight conversation on March 11, Google ATAP's Technical Project Lead Ivan Poupyrev and Levi's® VP of Innovation Paul Dillinger will contemplate a future of intelligent objects and hyper-interactivity. That night back at Levi's® Outpost, conversation will turn into a celebratory concert with DJ sets by Nancy Whang of LCD Soundsystem and Neon Indian.
With the start of the Music Festival, Levi's® will celebrate 50 years of another original: Rolling Stone. This collaboration will kick off with a backyard bash on March 14, including performances by Lo Moon and Francis and the Lights. Daytime panels with Levi's® and Rolling Stone veterans will cover half a century of music and style iconoclasts. The week wraps with another celebration concert on March 17, this time with performances by The Mystery Lights and Austin local legend Gary Clark Jr.
Every day, Levi's® Outpost is the place to get limited edition Levi's® x Rolling Stone merch and try on the future with an exhibition dedicated to the Levi's® Commuter™ Trucker Jacket with Jacquard™ by Google. At the pop-up Tailor Shop, exercise your originality with DIY customization: patches, beads, blockprinting, ice-dying, and visiting artists on site to show you how it's done. Did we mention there'll be free coffee?
Content and photo provided by Levi's
---
Related News:
The post See the Future of Clothing at the Levi's® Outpost appeared first on SXSW.