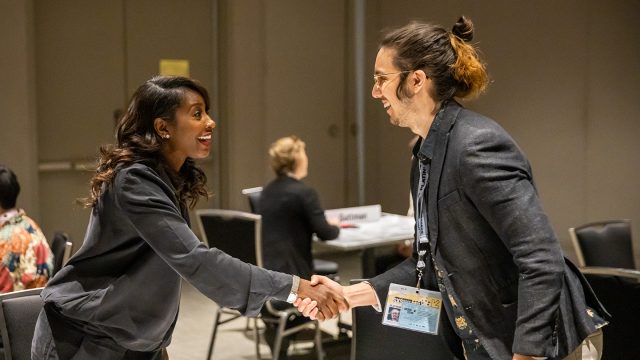 Attention all who seek career advice, inspiration, and learning opportunities at SXSW 2020 – RSVPs are now open for Mentor Sessions, Round Tables, Workshops, and Professional Development sessions!
We are also excited to announce the third wave of 2020 Convergence, Interactive, Film, and Music Mentors. These quick one-on-one talks allow attendees to receive advice and guidance from industry experts across a variety of notable companies including IBM, Harvard Business School, Microsoft, Google, Johnson & Johnson, YouTube, Kickstarter, Endeavor Content, Omeleto, C3 Management/C3 Records, Live Nation, VICE Music, Universal Music, and more.
Browse newly-added Mentors below by Convergence & Interactive, Film, and Music. Topics and areas of expertise vary so be sure to explore the full list of Mentor Sessions on the SXSW Schedule. Advance sign-up is required and access is limited to badge type.
Additionally, Film has announced Round Tables – informal and enlightening discussions on a specific topic with three industry experts – and Film Workshops happening within Conference Film Tracks. Music has also announced Demo Listenings – one-on-one opportunities to meet with industry experts and get direct feedback on one or two music tracks on the spot – and Music Workshops happening within the Conference Music Tracks. To level up your professional skills, RSVPs for sessions in the Professional Development Track are also open.
Jump to Film Workshops, Music Workshops, or Professional Development sessions below to expedite the RSVP process. Explore the SXSW Schedule for a full list of confirmed Mentor Sessions, Round Tables, Workshops, and Professional Development sessions to begin submitting your RSVPs.
Only a limited number of onsite RSVPs will be available – so secure your spot today!
---
Convergence & Interactive Mentors
A. Margot Brisky
(DiscoverHer Worldwide, INC)
Aaron Sweat
(Pointbay)
Adam McNichol
(Well Good)
Addy Ruth
(Redwood Logistics)
Aileen Horgan
(Atlassian)
Alexandra Reichek
(Chekmark Consulting / Chekmark Eats)
Alexis Lanman
(New Waterloo)
Alison Entsminger
(IBM)
Amber Anderson
(Tote + Pears)
Amira Pollock
(The University of Texas at Austin)
Amyn Rajan
(Peacefolks)
Annette Mia Flores
(Mercury Road Media)
Anthony Bender
(EBITDA Consulting Partners LLC)
Ashley Christenson
(Stream Coach)
Audrey Lo
(Trip By Skyscanner)
Benjamin Jaffe
(Cowan DeBaets Abrahams & Sheppard LLP)
Beverley May
(GE Health)
Bia Granja
(YOUPIX)
Bushra Burge
(BB Studio)
Caitlin Gutekunst
(Creativity, Inc)
Caren Carrasco
(Benjamin David Group)
Carlos Gil
(Gil Media Co.)
Cedric Gamelin
(Immersly)
Chase McDaniel
(Mercury Road Media & High Herstory)
Chris Abbott
(Botanica)
Chris McCrimmons
(CINEVVA)
Christine Cardenas
(Ecliptic Capital)
Cinta Burgos
(The Biotech Box)
Claire England
(Startup Community Consulting)
Claire Hansen
(Central Texas Angel Network)
Clauderic St Amand
(Bob Agency)
Clay Crenshaw
(thirteen23)
Cody Damon
(Media Cause)
Cynthia Salarizadeh
(AxisWire)
Dai Truong
(Left Coast Ventures)
Dan Willis
(Well Good)
Daniel Sager
(Civil Search International, Llc)
Daron Moore
(BMG)
Dasheeda Dawson
(The Weedhead

& Company)
David Aktary
(ERC dEX)
David Meltzer
(Sports 1 Marketing / David Meltzer Enterprises)
Doug Allenstein
(Supersphere)
Ed Doran
(Microsoft)
Elizabeth Barry
(Elizabeth Barry Consulting Agency)
Eric Monacelli
(Marvel)
Fani Sazaklidou
(DAZN)
Ganes Kesari
(Gramener Inc)
Gary Crowell
(Legal Drinking Agency)
Genevieve Gilbreath
(Springdale Ventures)
George White
(Cantina)
Gracie Arenas Strittmatter
(BioWare)
Guillermo Ochoa-Cronfel
(The Cronfel Firm)
Heather McClellan
(HKM Coaching and Consulting)
Heather Miller
(GrasshoppHer)
Iris Mok
(Bay Angels)
Jack Henneman
(Sparkmed Advisors LLC)
Jad Esber
(Koodos)
Jamie Petty Galis
(Petty-Galis)
Jane Westfall
(Product Inclusion)
Jenessa Carder
(Isobar)
---
Film Mentors & Round Tables
---
Music Mentors & Demo Listenings
---
Convergence & Interactive Round Tables
RSVP for Film & Music Workshops
Film Workshops
These Film Workshops take place during the Film Tracks of the SXSW Conference. Browse the list below!
Music Workshops
These Music Workshops take place during the Music Tracks of the SXSW Conference. Check out the list below!
RSVP for Professional Development Sessions
The Professional Development Track of the SXSW Conference is new for 2020 and is home to learning and accreditation opportunities including Continuing Legal Education (CLE) and more.
Browse the full list of Professional Development sessions on the SXSW Schedule and RSVP ahead of time to ensure your spot.
RSVP for Professional Development Sessions
Attend SXSW 2020
Join us for SXSW 2020 from March 13-22 in Austin, TX. Check out how to attend, plan your housing, and stay up to date on SXSW 2020 news by following us on Twitter, Facebook, LinkedIn, and Instagram.
Featured Image by Edward Bennett
The post RSVPs Now Open For 2020 Mentor Sessions, Round Tables, Professional Development Sessions & More appeared first on SXSW.