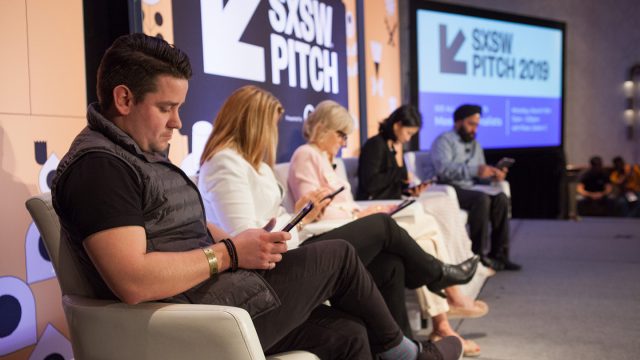 Now in its 12th year, SXSW Pitch has provided hundreds of startups the opportunity to compete, make career-advancing connections, and benefit from valuable media exposure.
PitchBook, a financial data and software company, has taken a deep dive into the data collected over the years to present a comprehensive SXSW Pitch report examining stats from most VC capital raised to active investors in SXSW companies and beyond.
Explore standout stats and then download the full report below for an in-depth look at the past 11 years of this startup pitch competition.
"SXSW was very special for Beagle. We made some fantastic new connections, had a great opportunity to refine our pitch and learned a great deal. As a company, we are stronger because of SXSW, and we are so grateful for the opportunity." – Cian O'Sullivan, Co-founder & CEO of Beagle
SXSW Pitch has supported new ideas and driven early-stage deals for over a decade. Over the past 11 years, SXSW Pitch has played a pivotal role in shaping the early-stage venture ecosystem, giving promising companies — from Siri to Klout — the resources they need to succeed when it matters most. Of the 503 past participants, 75% have received funding – $6.6 billion to be exact – and 16% have been acquired. Each year, the median capital raised by participants is $2.3 million.
Venture capital investments reach new heights as the industry navigates major shifts. VC has become a major catalyst for early-stage growth as it supplies startups with capital and mentorship to navigate the path toward scale. Fundraising is on track to surpass $40B in 2019, with several large vehicles primed to close.
Although angel and seed dealmaking activity in 2019 may not reach historic levels, capital invested has remained strong and relatively stable with nearly $2 billion invested across just more than 1,000 deals in 3Q with the average deal being $2 million. Seed and angel transaction sizes of sub-$1 million comprise less than 50% of all seed/angel transactions. 37% of early-stage transactions YTD in 2019 have been more than $100 million.
From creating virtual universes to transforming how we get from point A to point B, SXSW Pitch participants reimagine the world, shaping both emerging and established industries. Each year, the categories are selected by analyzing industry trends, financing activity, and more. Download the report to read the full analysis of each category.
Download the Report
Apply to SXSW Pitch
Refine your elevator pitch, gain access to network with top investors and companies, and more when you apply to pitch your startup during SXSW Pitch. Read up on all the benefits of participating as well as what past participants had to say about their pitch experience before you submit an application.
For the opportunity to be a part of this exciting experience, apply to SXSW Pitch by Friday, November 15 by 11:59pm PT. Read over the eligibility criteria and 2020 Advisory Board before submitting an application.
Stay up-to-date on everything SXSW by following us on Twitter, Facebook, LinkedIn, and Instagram.
Featured Image: SXSW Pitch Judges – 2019 – Photo by Ram Karamchandani
The post Review Over a Decade of Data in the 2020 PitchBook Report appeared first on SXSW.