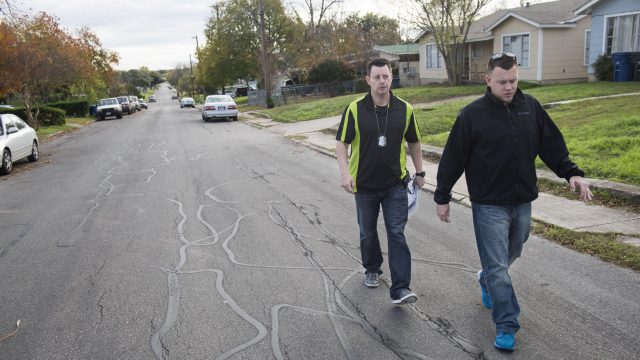 The 2019 SXSW Film Festival is almost upon us and we can't wait to have you here! Before you make your way down to Austin, TX, get to know films from our lineup a little bit better with our Filmmaker In Focus series. Dive into our Q&A with director Jenifer McShane, as she tells us about her film Ernie & Joe, which will make its world premiere in Documentary Feature Competition.
In your own words, what does this film mean to you?
Jenifer McShane: Making this film has been a tremendous experience for me. I am blessed with amazing characters and a dynamic creative team. To me the film is about human connection and the impact we can have on each other.
What motivated you to tell this story?
JM: While researching and making my previous documentary, Mothers of Bedford, it became very clear that many people with untreated mental illness are sitting behind bars. As a civilized society, I believe we should not criminalize mental illness. In addition, we have put law enforcement in the difficult position of being first responders often with little or no training. When I saw the strides being made in San Antonio, I felt compelled to tell this story.
How did you find your subject?
JM: I read a great article about the SAPD mental health unit. After commenting how impressed I was with the meaningful work, the writer (who is a friend) introduced us via email. I flew out and spent some time following without a camera and was convinced this was a story I had to tell.
What do you want the audience to take away?
JM: Every community across the country is dealing in some way with the issues raised in Ernie & Joe. Most everyone knows a family member or friend struggling with a mental health diagnosis and most communities are dealing with how to relate to their local police officers who are often the first to respond to a person in crisis. I would like Ernie and Joe's work to be an example of what can happen when law enforcement and the mental health community truly collaborate. Obviously, there is a long way to go, but the work we see in the film is an important step.
What made you choose SXSW to showcase your film to the world?
JM: Ernie & Joe is a Texas story so SXSW was a natural choice. Also, the subjects of the film would be able to attend easily which was a huge factor. Plus SXSW has a reputation as a premiere festival with great energy. I am delighted Ernie & Joe will premiering at SXSW!
Add Ernie & Joe to your SXSW Schedule. Stay tuned in the coming weeks as we share more interviews with our SXSW 2019 filmmakers!
Join Us For SXSW 2019
Register and book your hotel now to save! The Film Badge gets you primary access to all SXSW Film events including Film Keynotes and Featured Sessions, world premieres, round tables, workshops, parties, and more. Over the course of nine days, the SXSW Film Festival hosts over 450 screenings! Film registrants also have primary access to Convergence events, including the Comedy Festival and nine unique Conference tracks, as well as secondary access to most Interactive and Music events.
Attending screenings at the Paramount Theatre or Stateside Theatre? Please note these venues have a new bag policy. Find more info here.
Ernie & Joe – Photo by Matthew Busch
The post Director Jenifer McShane Discusses Her Documentary About Mental Health – SXSW Filmmaker In Focus appeared first on SXSW.