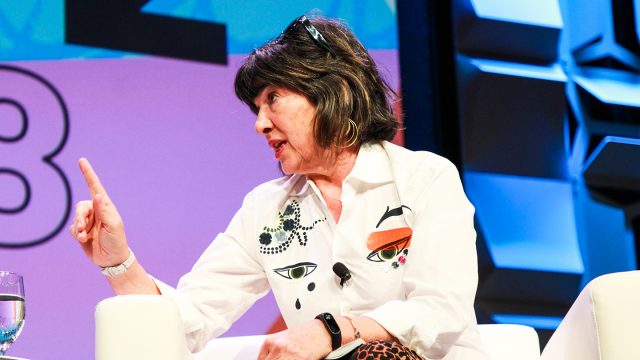 Today's consumers expect their media to be instantaneous, the latest information and content always one click away. The Media & Journalism Track explores these consumer expectations as well as the effect they have on new and existing institutions as they struggle to keep up with the modern consumer and their ever-evolving needs.
Join us during the SXSW Conference from March 8-14 for sessions that delve into the conversations, challenges, and innovative ideas impacting the way content is produced, distributed, and consumed. These sessions will approach the question of how do old institutions adapt to newer methods to stay relevant as outlets adapt to the expectations of this new generation of consumers.
Media & Journalism Session Highlights
The Intersection of New Formats in Media
In today's world, the way we consume content is rapidly changing – consumers expect immediate access to content using various formats: video, newsletter, podcast, social feeds, voice, TV, and more. If modern media consumption lives at the intersection of these formats how can media companies evolve to fill these demands? Kasia Cieplak-Mayr von Baldegg, Executive Producer at The Atlantic, Jean Ellen Cowgill, General Manager of TicToc by Bloomberg and Global Head of Strategy and Business Development for Bloomberg Media Group, Sara Fischer, Media Reporter at Axios, and Nick Quah, Founder and Publisher at Hot Pod will discuss innovative content strategy and distribution across new and emerging formats.
AI and the Future of Journalism
Artificial Intelligence is already being utilized in a big way: machine learning is used by various organizations to automate thousands of stories, sort through massive quantities of data to identify trends and outliers, and build bots that scale individual conversations with their audiences. As the uses of AI expand with the growth of the technology, so do the ethical implications. In this session, Meredith Broussard, Assistant Professor at the Arthur L. Carter Journalism Institute of New York University, Rubina Fillion, Director of Audience Engagement at The Intercept, Elite Troung, Deputy Editor of Strategic Initiatives at The Washington Post, and Emily Withrow, Director of Quartz Bot Studio will explore the possibilities and complications that AI could bring into this fast-moving space.
Can We Fight Fake News Without Killing the Truth?
The Internet and social media have connected us in unprecedented ways, but this increased interconnectedness has also enabled the spreading of fake news, post-truth, and hate speech. Policymakers and legislators have tried to regulate digital spaces, news sites, social networks, and communication tools – but have found it difficult to balance addressing legitimate concerns with censoring valid ideas and impeding the fundamental right to freedom of expression. Wajahat Ali, New York Times Contributing Op-Ed Writer, Lawyer, Award-Winning Playwright, TV Host, & Consultant for the U.S. State Department, Rim-Sarah Alouane, Researcher in Comparative Law at the University Toulouse-Capitole, Anjana Susarla, Associate Professor of Information Systems at Michigan State University, and Shaarik Zafar, Public Policy Manager at Facebook, sit down in this session to discuss how to ensure that all the users of online spaces have both their freedom of expression and right to not be manipulated protected.
Deep Impact: Podcasts Inspiring Action/Change IRL
True crime and comedy podcasts have historically been the most popular podcasts, but news and politics podcasts have arisen to rival them for the top spots. Podcasts provide a longer format in which the news can be further explored often offering a shift in perspective for listeners inspiring them to take action. Madeline Baran, Host of In the Dark, Annie Brown, Reporter at The New York Times, and Al Letson, Host of Reveal, from the Center for Investigative Reporting, will discuss how the rise in news podcasts expose cultural issues and build community, lead to social change and prompt listener action – from registering to vote to writing letters to prisoners – as well as the other ways that podcast are making themselves crucial media.
Online Humor in Difficult Times
Can humor bridge the gap between differing political views and overcome social divides? Does humor lift up marginalized communities or does it further oppress the already disadvantaged? Does humor spread fake news or help amplify the truth? In the recent past, the intersection of meme culture, GIFs, hashtags, selfies, puns, and other aspects of humor online have been talking points everywhere from government to international news outlets. This panel will bring together Susan Benesch, Director of Dangerous Speech Project, An Xiao Mina, Research Affiliate at Berkman Klein Center and Harvard University as well as Director of Product at Meedan, and Johnny Sun, Humorist, Author, Illustrator, PhD candidate, and Creative Researcher at MIT and Harvard metaLAB to discuss the role of humor in today's society, news, politics, culture, activism, and online life.
Check out other Media & Journalism sessions as well as other Keynotes and Featured Speakers like The Daily Show with Trevor Noah, Jeff Zucker and Joe Pompeo, Jill Abramson with Jonah Peretti, Jim Bankoff and Soledad O'Brien, and The Next Form of Storytelling: The Future of Technology-Enabled Entertainment:
Browse More Media & Journalism Sessions
Enjoy primary access to all Media & Journalism sessions as well as other Conference Sessions with a Platinum or Interactive Badge, and secondary access to most other events.
Crossover Track Recommendations
Learn more and unlock your badge's full potential when you explore sessions on the other 25 Conference Tracks that relate back to Media & Journalism Track:
Attend SXSW 2019
So, are we going to see you in March?
Get your SXSW Badge and reserve your hotel today to attend SXSW 2019 and experience these Conference sessions along with 10 days of screenings, showcases, exhibitions, networking, and more this March 8-17 in Austin, TX.
Follow us on Facebook, Twitter, Instagram, and SXSW News to stay current with all things SXSW.
Featured Image by Kaylin Balderrama
The post Optimizing Journalism for the Media Generation – 2019 SXSW Sessions appeared first on SXSW.