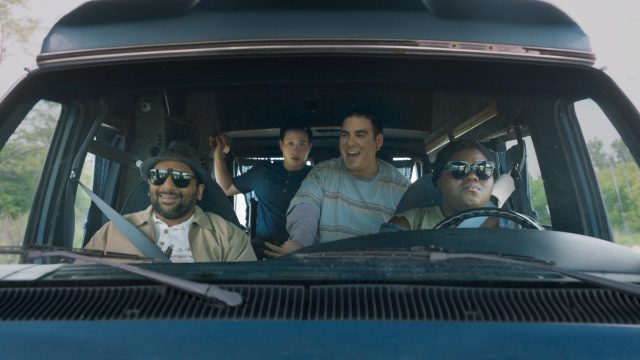 The 2019 SXSW Film Festival is almost upon us and we can't wait to have you here! Before you make your way down to Austin, TX get to know films from our lineup a little bit better with our Filmmaker In Focus series. Dive into our Q&A with director Richard Wong, as he tells us about his film Come As You Are, which will world premiere in Narrative Spotlight and stars an ensemble cast of Grant Rosenmeyer, Hayden Szeto, Ravi Patel, Gabourey Sidibe, Janeane Garofalo, and C.S. Lee.
In your own words, what does this film mean to you?
Richard Wong: The film to me is about overcoming obstacles, one of the most defining things about human experience.
What motivated you to tell this story?
RW: The script. We don't read tons of scripts that we love. I think that's fair to say. This script connected immediately and had an energy and vibe to it that was infectious. This continually proved to be the currency we built this whole movie on. Everyone who worked on the movie felt that from the script, and I believe that passion for the material shows on screen.
What do you want the audience to take away?
RW: My hope is that people walk away from the film feeling that our characters are real people and, though their obstacles in their own lives may vary greatly, they can relate to the struggles our characters have in the film.
What made you choose SXSW to showcase your film to the world?
RW: Very early on, as in before we even had funding, it just felt like a great fit tonally for SXSW. Obviously, we, like any film, have aspirations for it to be seen by as many people as possible, and we knew a festival like SXSW would be a perfect first step in getting our film out there.
Do you have a past experience at SXSW that impacted your decision to come back?
RW: My experience with SXSW is that all my previous films I directed were rejected, haha! So it feels like a great accomplishment to finally make it here!
Add Come As You Are to your SXSW Schedule. Stay tuned in the coming weeks as we share more interviews with our SXSW 2019 filmmakers!
Join Us For SXSW 2019
Register and book your hotel now to save! The Film Badge gets you primary access to all SXSW Film events including Film Keynotes and Featured Sessions, world premieres, round tables, workshops, parties, and more. Over the course of nine days, the SXSW Film Festival hosts over 450 screenings! Film registrants also have primary access to Convergence events, including the Comedy Festival and nine unique Conference tracks, as well as secondary access to most Interactive and Music events.
Follow us on Facebook, Twitter, Instagram, and SXSW News for the latest SXSW coverage.
See you in March!
Come As You Are – Photo by CAYA FILM LLC
The post Director Richard Wong Discusses His Film Come As You Are – SXSW Filmmaker In Focus appeared first on SXSW.