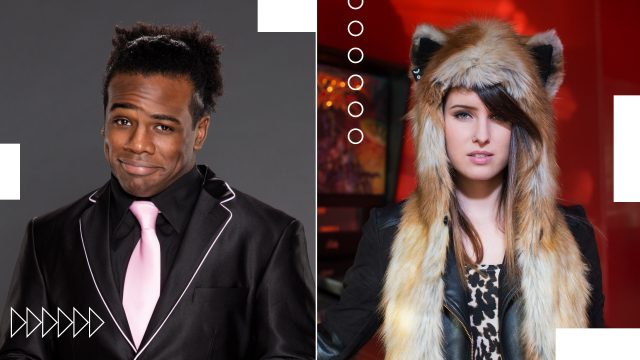 SXSW is proud to reveal that popular gaming broadcaster OMGitsfirefoxx and WWE Superstar Xavier Woods will host the fourth annual SXSW Gaming Awards at SXSW Gaming 2017.
The 2017 Gaming Awards, sponsored by IGN and Imaginary Forces, will take place Saturday, March 18, at 8p.m. at the Hilton in downtown Austin, and will be accessible to 3-day and Saturday SXSW Gaming wristbands, with complimentary access extended to all SXSW badgeholders.
OMGitsfirefoxx, the self-proclaimed "full-time dragon slayer, part-time sniper," aka Sonja Reid, holds the Guinness World Record as the most popular female broadcaster, boasting just under 800,000 followers on Twitch.
WWE Superstar Xavier Woods is a two-time WWE Tag Team Champion alongside fellow New Day members Big E and Kofi Kingston. An avid gamer, Woods is also the host of his own YouTube gaming channel, UpUpDownDown, where he's known by his gamer tag Austin Creed. The channel, which has secured nearly 1 million subscribers since launching last June, is the home to popular shows like Gamer Gauntlet and Superstar Savepoint, and continues to be a must-watch channel for gamers around the world.
The Gaming Awards will celebrate 100 nominees across 23 unique categories, which includes the return of the Gamer's Voice awards and addition of new categories such as Trending Game of the Year, Fan Creation of the Year, and Esports Game of the Year for 2017.
Online voting for all Gaming Awards categories, excluding Gamer's Voice, will take place from Wednesday, January 25 through Friday, February 10. To vote, cast your ballot on IGN!
Prices increase to $25 for single-day and $49 for three-day Gaming wristbands after 11:59 p.m. PST on Friday, January 27.
Xavier Woods and OMGitsfirefoxx – Photos courtesy of WWE and OMGitsfirefoxx
---
Related News:
The post OMGitsfirefoxx and WWE® Superstar Xavier Woods® To Host 2017 SXSW Gaming Awards appeared first on SXSW.