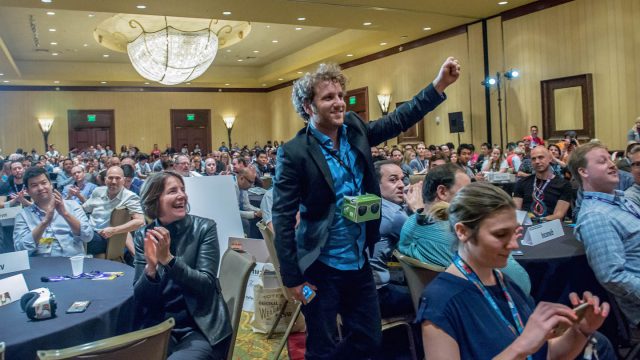 More than five hundred companies submitted their web-based products to our ninth annual SXSW Accelerator Pitch Event. Competition was tough this year, but the results are in! We couldn't be more excited to share the finalists with you. Congratulations to everyone who will be showcasing their products on Saturday, March 11 and Sunday, March 12 at the Hilton Hotel in downtown Austin.
How to we pick the winner? In true SXSW style, of course. Watch as finalists pitch their products live on Saturday and choose the top 18 to move on. Sunday, things heat up as a winner is chosen in each category from the top 18 startups.
You haven't seen competition until you've seen one like this. Join us in March to celebrate the talented individuals and outstanding companies listed below. View all 2017 Finalists and Alternates here.
2017 Accelerator Finalists
Augmented and Virtual Reality Technologies Finalists
Fibrum
Moscow, Russia
Fibrum Platform is a VR-platform designed for the purpose of involving a user into virtual reality, making it understandable and interesting, analogue of Steam for mobile VR.
Holojam
New York, NY
Holojam is developing technology that works with VR / AR headsets to enable groups of people who are in the same location to share a mixed reality – where the virtual world is blended over the physical world.
Lampix
San Francisco, CA
Lampix is a software, hardware and cloud platform that makes augmented reality without glasses by transforming surfaces into smart surfaces. This makes AR much simpler.
Oncomfort
Houston, TX
Oncomfort leverages virtual reality technology to train patients in stress management techniques, give them easy-to-understand information, and help them feel in control, more calm and comfortable during their whole medical journey.
Teleporter VR
Istanbul, Turkey
Teleporter VR is the new generation live event experience company focused live sports, music and e-sports events. The company is building a magical platform using VR, AI and AR technologies.
Enterprise and Smart Data Technologies Finalists
Deep 6 Analytics
Pasadena, CA
Deep 6 Analytics applies artificial intelligence to medical records to find more patients for clinical trials faster, getting cures to the people who need them more quickly.
Helixworks Technologies
Cork, Ireland
Helixworks makes synthetic DNA for research in Biotech and has developed a technology to store digital data in DNA.
LivingLens
Liverpool, United Kingdom
LivingLens captures and analyzes video content via speech, actions & sentiment, translating human behavior & attitudes into data & insights
Metadata
San Francisco, CA
For marketing managers in B2B/tech, Metadata amplifies your content marketing campaigns by pairing predictive scoring + programmatic advertising to generate qualified, opt-in conversions.
Speechmatics
Cambridge, United Kingdom
Speechmatics provides the world's smartest speech recognition technology, harnessing the latest advances in AI and deep learning. With broad language coverage our technology enables enterprises to surface valuable customer insight.
Entertainment and Content Technologies Finalists
Haste
Atlanta, GA
Haste is software that optimizes the internet for people engaged in live, interactive experiences. Haste is currently beta-testing its esports accelerator service which reduces network lag for gamers.
Laugh.ly
San Francisco, CA
Laugh.ly is the first and only streaming app dedicated to stand-up comedy. We have the largest catalog of comedy from over 600 comedians – everyone from Aziz Ansari to Kevin Hart.
MuuseLabs
Brussels, Belgium
MuuseLabs is a family tech consumer electronics company. It develops Jooki – The Jukebox for Kids – a wireless speaker with a figurine-based interface targeted at kids without a smartphone.
Novel Effect
Seattle, WA
Novel Effect makes story time magical by using voice recognition to sync special effects as you tell a story, creating an immersive, interactive and engaging experience.
Triseum
Bryan, TX
Triseum creates high-quality learning games, empowering players to learn through fun, engaging and immersive experiences. Our games are meticulously handcrafted, fully tested and evaluated to provide the ultimate educational experience.
Health and Wearables Technologies Finalists
Bloomlife
San Francisco, CA
Bloomlife is a women's health company designing the future of prenatal care. We combine wearables with data analytics to reassure moms and provide doctors with better information to improve birth outcomes.
iSono Health
San Francisco, CA
iSono Health is democratizing breast cancer screening by developing a platform that combines automated ultrasound with AI to empower women with regular and accessible breast health monitoring to help with early detection.
Litmus Health
Austin, TX
Litmus Health is a clinical data science platform focused on health-related quality of life. We help researchers make better go and no-go decisions from patients' environment, lifestyle, diet, and activity.
Saathi
Ahmedabad, Gujarat
Saathi takes a cradle-to-cradle approach to women's menstrual health. We've developed a fully biodegradable sanitary pad from waste banana tree fiber, which don't need to be burned when disposed, thus helping to reduce greenhouse gas emissions.
Sound Scouts
Sydney, New South Wales, Australia
Sound Scouts utilizes game-based technology to deliver an accessible, reliable, low cost hearing screening solution to eliminate undetected hearing loss and elevate life outcomes.
Innovative World Technologies Finalists
AnyQuip
Calgary, Alberta, Canada
AnyQuip is Canada's trusted B2B equipment sharing platform and marketplace. We connect companies that own under-utilized heavy equipment directly to qualified contractors looking to rent it. Largest selection, lowest prices.
envi
Los Angeles, CA
envi has perfected detailing a car without water, without scratching. envi is empowering the deaf community with a real income/business opportunity that promoted saving time, water and the planet!
FishViews
Wimberly, TX
FishViews creates 360o HD waterway maps delivered to desktop, mobile, or VR devices. We get you on the water without putting you in the boat.
Makerarm
Austin, TX
Makerarm is the world's first factory on a desktop. A robotic arm with 20 snap-on heads including laser, milling and 3D printing, Makerarm allows you to make anything, anywhere.
Thimble.io
Buffalo, NY
Thimble teaches beginners a basic understanding of building electronics through a monthly kit with carefully curated and easy to follow instructions. Examples include a wifi-robot, weather station, quadcopter, etc.
Payment and FinTech Technologies Finalists
AssetVault
London, United Kingdom
AssetVault helps consumers to catalogue their physical and digital assets in a secure register, protect assets through insurance products and fully digital wills and unlock value of assets through advanced AI.
CNote
Oakland, CA
CNote earns you a 40x better return on your savings with 100% social impact.
Envudu
Springville, UT
Natural biases are hard to overcome. What if our biases could work for us instead of against us? Envudu is a "mind hack" that fundamentally changes how you manage money.
Hip Pocket
Lincoln, NE
Hip Pocket's newest FinTech app, Hip Money, helps you save more money and prepay debt all with a simple swipe right on your phone.
Kickfurther
Boulder, CO
Kickfurther is the first online consignment platform in the world. We connect growing brands with individuals across the United States where both are able to grow their wealth.
Security and Payment Technologies Finalists
Emergent Network Defense
Washington, DC
Predict and prevent hacks before they start. Emergent uses existing enterprise systems and swarming artificial intelligence to explore millions of loss scenarios; identifying hacks that make Fortune 500 executives nervous.
Secr Secure
Barcelona, Catalunya, Spain
A security toolkit for developers.
umboCV
San Francisco, CA
A neural network based artificial super intelligence that sees the world as we do.
UnifyID
San Francisco, CA
UnifyID revolutionizes authentication by discovering what makes us unique. We're getting rid of passwords by combining machine learning and sensor data to maximize the user experience while reducing fraud.
Uplevel Security
New York, NY
Uplevel's Adaptive Response Platform uses graph intelligence to enable enterprises to respond to attacks quickly and accurately, dynamically enhance security posture, and develop strategic initiatives based on response insights.
Social and Culture Technologies Finalists
4Gifters
Milan, Italy
4Gifters is the first social e-gifting platform allowing users to Gift, Group Gift and pick up from luxury brand stores all over the world.
Envy
Palo Alto, CA
Envy is a visual search engine, based on your location. Rethink the way you find the services and products you want. Swipe right if you love it, left if you don't.
Lily
San Diego, CA
Lily helps women discover & buy clothes that make them look & feel their best. It's first ever perception engine technology understands a woman's emotions, perceptions & aspirations about clothing.
Module
Pittsburgh, PA
Module is reimagining home for the 21st century. Our incremental housing technology and interactive design platform provide affordable, well-designed homes that change as your needs do.
NextBillion
Vancouver, Canada
NextBillion.org is a community where people with visible and invisible disabilities connect with industry leaders for personalized mentorships, and get access to jobs and resources.
Sports Technologies Finalists
Brizi
Toronto, Canada
Brizi automates and monetizes fan content in stadiums. Augmented Reality robotic cameras are remote-controlled by fans to instantly snap & share photos of themselves.
HorseAnalytics GmbH
Hannover, Niedersachsen, Germany
HorseAnalytics empowers horse enthusiasts to monitor and improve health and training of horses by applying reliable technologies from health and sports supervision and combining constant and real-time scientific analytics.
Kymira
Reading, United Kingdom
KYMIRA have developed a disruptive business model do deliver medical innovation through their Sportswear brand. They're developing the smart clothing of tomorrow for a cleaner, safer and healthier planet.
Season Share
Los Angeles, CA
There are 3.2M season ticket holders in the US, 70% share with other sports fans. Season Share is a proprietary mobile technology for buying & sharing season tickets.
Wyp Aviation
Huntsville, AL
Passionate, inspired, with just a touch of crazy. From design to prototype to flight test, Wyp Aviation has the knowledge and flexibility to take aviation to the next level.
Transportation Technologies Finalists
Driver Watchdog
Buffalo, NY
Driver Watchdog is The Smart Driver's Companion. Assisting in proactively avoiding unsafe situations with on demand behavior correction capabilities. We are Intelligent Driving.. Reinvented.
Fingertips Lab
San Francisco, CA
Fingertips Lab's first product is O6, an IoT device and mobile app that allows you to engage with your phone while driving, without looking at or touching a screen.
HAAS Alert
Chicago, IL
V2V (vehicle-to-vehicle) platform delivers real-time preemptive safety information to motorists, smart cities, connected and autonomous cars. Helping drivers and vehicles make smarter decisions by informing them of the road ahead.
Spatial.ia
Detroit, MI
Artificial intelligence location platform and API that enables vehicles to answer location questions only a local would know using real-time social data.
SPLT
Austin, TX
SPLT is a transportation platform changing the way people commute worldwide through enterprise carpooling in a closed network and in partnership with Lyft, providing non-emergency medical transportation.
2016 SXSW Accelerator Awards – Photo by Amanda Stronza
The post The Results Are In: SXSW Announces 2017 Accelerator Finalists appeared first on SXSW.