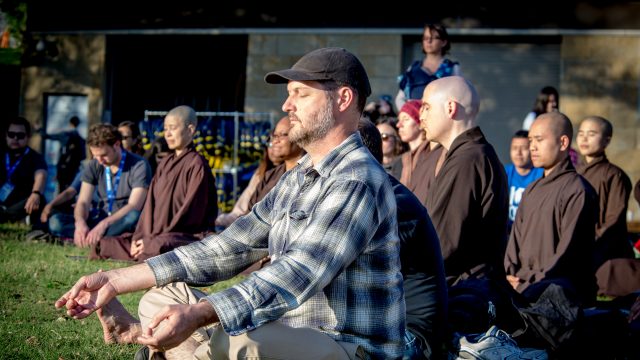 For the first time, SXSW is hosting an exhibition focused on fueling your mind, body, and soul. The SXSW Wellness Expo will complement the Health & Wellness track at the SXSW Conference while offering SXSW attendees and Guest Pass holders the opportunity to check out the latest innovative products and services in this expanding industry.
In recent years, the Health & Wellness industry has experienced large growth and increased interest. According to the Global Wellness Institute, the Global Wellness industry totaled $3.7 billion in 2015. We're bringing this industry to the heart of SXSW 2018 with the SXSW Wellness Expo, which spans two days at Palmer Events Center on March 10-11.
This exhibition will not only feature numerous companies within the wellness landscape, but will also feature the SXSW Wellness Expo Stage and other areas with programming that includes, workshops, demos, fitness classes, speakers, readings, relaxation activities, and more.
Exhibit at the SXSW Wellness Expo
We're looking for businesses and organizations to participate in the SXSW Wellness Expo. If you have a company that falls within the Health & Wellness industry and focuses on herbs and supplements, athleisure, fitness, CBD products, clean eating, natural beauty products, specialty diets, mental and physical exercise, beauty and spa equipment, wellness retreats, or something else, contact us to be a part of this brand new exhibition.
Apply for an Underwritten Space
Interested in participating in the SXSW Wellness Expo? We've reserved a few 10'x10′ spaces as well as some 30-minute, hands-on demos for nonprofits and others looking to share their passion with attendees interested in the world of wellness. If you're a non-corporate organization, an educator, or an early-stage startup company, you can apply for an underwritten space.
Photo by Amanda Stronza
The post New for 2018: The SXSW Wellness Expo appeared first on SXSW.