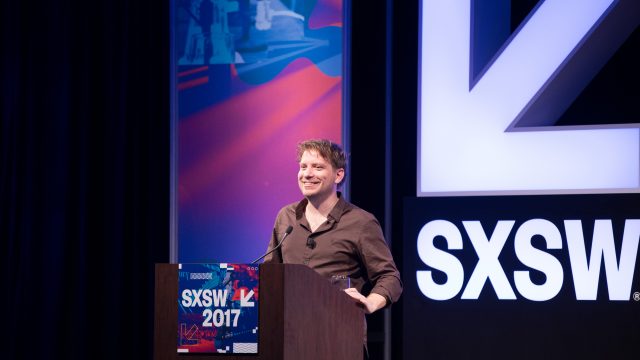 To commemorate the 25th edition of the SXSW Film Festival, we will spotlight careers launched, artists discovered, powerful performances, and more from our alumni. This week's featured artist is director and writer Gareth Edwards.
Edward's directorial film debut, Monsters, world premiered at the 2010 SXSW Film Festival. Monsters won many accolades, garnering six nominations and three wins, including Best Director for Edwards at the British Independent Film Awards. Edwards was also nominated for a BAFTA award for Outstanding Debut by a British Director. The film was listed as one of the top ten independent films of 2010 by the National Board of Review and placed third on Moviefone's Top 10 Sci-Fi Movies that same year. In anticipation of Edward's second feature, the 2014 reboot of Godzilla for Warner Brothers, he presented a 60th anniversary screening of the 1954 original at SXSW. Audience members were treated to an exclusive first look of the remake.
As director of the exhilarating Rogue One: A Star Wars Story, a chapter in the Star Wars Anthology series, Edwards returned to SXSW as a 2017 Film Keynote Speaker, where he discussed his career and his desire to join the rebel alliance after his first experience watching Star Wars. Rogue One was the second highest-grossing film of 2016 and went on to receive two Oscar nominations for sound mixing and visual effects.
We are excited to share his #SXSWFilm25 story with you.
"You can divide my life in two, before SXSW and after SXSW. It scares me to think how different my career would be if my first film hadn't been premiered at the festival. I can pretty much trace all my success since then back to that moment… But please don't tell them this or they'll sue me for a share of my Hollywood residuals."
Stay tuned to SXSW News each week for more 25th edition stories.
Join Us For SXSW 2018
Grab your Film Badge today for primary access to all SXSW Film events including world premieres, roundtables, workshops, and parties. Register to attend by Friday, October 20 and save before prices go up in November. Make your hotel reservations through SXSW Housing & Travel for the best available rates. We hope to see you in March!
Follow us on Facebook, Twitter, Instagram, and SXSW News for the latest SXSW coverage, announcements, application tips, and updates.
2017 Film Festival Keynote, Gareth Edwards – Photo by Alexa Gonzalez Wagner
The post 25 Years of SXSW Film Festival – Gareth Edwards appeared first on SXSW.