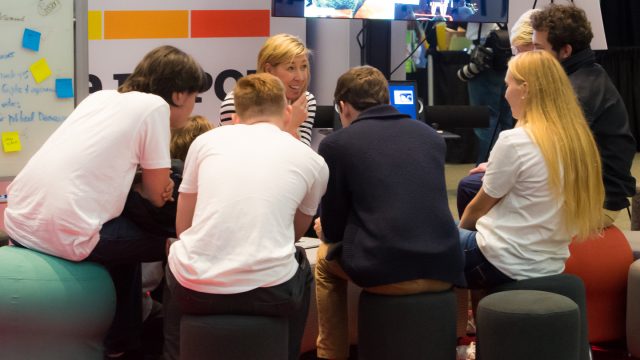 The way that we teach and learn is evolving and so are the classrooms and the environments in which we learn. For 2017, SXSWedu is putting a spotlight on individuals and organizations reimagining these spaces with a NEW competition, Learn by Design, that puts the design of physical learning spaces and the impact on learning outcomes center stage!
In a survey of the community conducted this summer, we discovered that 86% of respondents believe that physical design of the space affects learning most of the time. That same survey revealed key traits of innovative learning spaces to be collaborative, flexible, comfortable, simple, and outside, among more. All this to say; we're excited to host an intentional conversation about how the learning environment affects the success of students.
Learn by Design Application: Open until Sunday, November 20
Qualified projects are invited to submit an online application for the Learn by Design competition by EOD on Sunday, November 20. Applicants will be asked to choose one of the three (3) categories below that best aligns with the stage of development of their project. Finalists will be selected from the applicant pool to present their projects in the Learn by Design competition at SXSWedu, March 6-9, 2017, in front of a judging panel and live audience.
Learn by Design Competition Categories:
Experiential – Projects that enhance or create an interactive learning environment
Conceptual – Projects that do not yet exist in physical form
Physical – Projects that have moved past the conceptual phase and now exist
More From SXSWedu
SXSWedu (South by Southwest Education) celebrates creatives and professionals in the world of learning, March 6-9 in Austin, Tx, just before SXSW kicks off. The SXSWedu Conference & Festival features four days of compelling sessions, in-depth workshops, engaging learning experiences, mentorship, film screenings, startup events, policy-centered discussions, business opportunities, networking and so much more!
Register to attend SXSWedu by Friday, November 18 to save $150 off the walk-up rate. Or, save big and add a SXSWedu badge to your SXSW Platinum, Interactive, Film or Music badge purchase for only $295. Once registered, book your hotel through SXSW Housing & Travel for the best available rates.
Did you already purchase your SXSW Platinum, Interactive, Film or Music badge and you want to attend SXSWedu too? Contact reg@sxswedu.com.
Subscribe to the SXSWedu Newsletter
Want to learn more about SXSWedu? Subscribe to the SXSWedu Newsletter and be sure to follow us on Twitter, Facebook and Instagram for the latest news and announcements.
SXSWedu 2016 photo by Scott Strance.
---
Related News:
The post Learn by Design: Apply to Showcase Your Vision for Learning Environments at SXSWedu appeared first on SXSW.