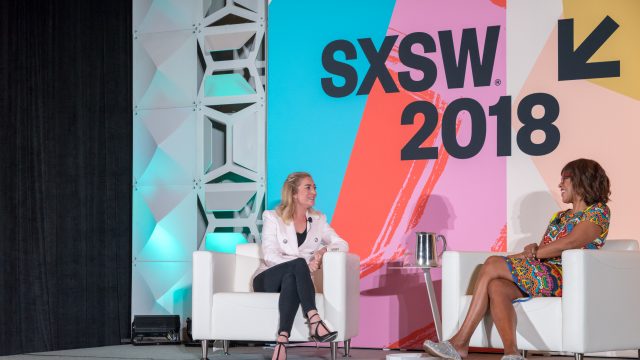 How can one individual can ignite a fire through creativity, perseverance, and support to make change? In this curated YouTube playlist, past SXSW Conference speakers such as Bumble founder and CEO, Whitney Wolfe Herd, founder and CEO of O'Reilly Media, Tim O'Reilly, Apple's Senior Vice President of Internet Software and Services, Eddy Cue and many others join the conversation.
The speakers in the Inspiring People Creating Change playlist make up only a fraction of the incredible talent and industry leaders in attendance at the SXSW Conference each year. Programmed session seeks to honor SXSW's original vision, to act as a tool for creative people and the companies they work with, to develop their careers, and bring together people from a wide area to meet and share ideas.
Inspiring People Creating Change Playlist
Whitney Wolfe Herd and Gayle King | 2018
Gayle King, co-host of CBS This Morning and Editor-at-Large of the award-winning O, the Oprah Magazine, interviews Whitney Wolfe Herd, CEO of Bumble. Wolfe Herd talks about Bumble, one of the fastest-growing social networks in the world, and how her strategic vision has singlehandedly disrupted the way people connect on- and offline.
Tim O'Reilly | 2018
Tim O'Reilly shares years of experience and industry expertise to help entrepreneurs evolve their businesses. Understanding how all the parts of your business work together is the key to innovation, because it lets you take advantage of the capabilities provided by new technology without getting sucked into the vortex of me-too thinking that never quite seems to work out the way it does for the startups who first show its power.
Eddy Cue | 2018
Eddy Cue, Apple's senior vice president of Internet Software and Services, sits down with CNN's Dylan Byers for a wide-ranging discussion about the opportunities and challenges facing the world of media and entertainment, and why curation matters.
Jennifer Pahlka | 2018
There's a small but growing alliance of public servants, technologists, and concerned citizens who recognize the fundamental threat to our democracy if we continue to let the machinery of government rot, and they're doing something about it. This movement has gone way beyond better websites. Today, user-centered, iterative practices are helping make government operations and policy get the outcomes we intend, and making government work on behalf of the people. And just when when we're on a roll, we face tougher questions about what a more effective and efficient government might mean in the Trump era.
To see more videos, subscribe to the official SXSW Youtube channel. Stay tuned to SXSW News for more SXSW playlist highlights. And don't forget to register to attend SXSW 2019 to experience inspiring sessions from Keynotes, Featured Speakers, and much more from March 8-17.
The post Inspiring People Creating Change: Neil deGrasse Tyson, Whitney Wolfe Herd & More [Videos] appeared first on SXSW.