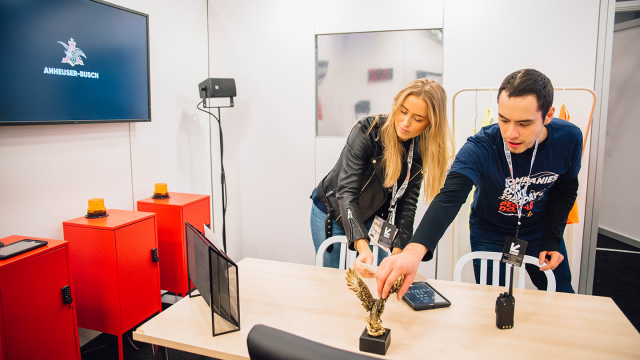 The 2019 SXSW Trade Show is right around the corner, and we are still looking for exhibitors to apply. We realize the Trade Show can be a lot to take in for first-time exhibitors — it is our largest exhibition after all — so we reached out to our Senior Exhibitions Manager, Brittani Mathis, to give you the inside scoop.
What is a Trade Show?
A Trade Show is typically thought of as an exhibition where businesses from a particular industry promote their products and services. The format allows exhibitors to engage with registrants and offer hands-on product demonstrations.
What sets the SXSW Trade Show apart from other shows?
SXSW offers exposure to the widest scope of registrants at the intersection of technology and creativity, which allows clients to hit multiple target markets for the budget of a single activation. In addition, we can offer marketing clients a team of SXSW experts to support them through the planning and onsite production, alleviating some of the stress.
What can a first-time exhibitor do to have a successful exhibition?
Proper planning is the first step to a successful activation at SXSW. Exhibitors have access to helpful tools via their exhibitor portals, including show timelines, a list of common production expenses, and contact information for recommended local vendors. Also keep an eye out for our monthly newsletter which includes reminders for upcoming discount deadlines and other important logistical information about the show.
When designing your space, keep it open and easy to flow through. Include soft seating or other elements, such as a charging station, to attract registrants to the booth. Don't waste money on a promotional item that can easily be thrown away, offer something that conference-goers will use throughout the event, such as a notepad to take inspirational notes.
Finally, use the social media tool kit to help promote your presence at SXSW or take advantage of the exclusive discounts Cision PR Newswire is providing to SXSW Exhibitors for news distribution services. Utilize the industry's largest network to boost your SXSW presence and brand awareness. Reach thousands of websites, tech/music/film trade publications, 3,000+ media outlets, and 39,000+ journalists on the PR Newswire network.
Photo by Jordan Hefler
The post First-Time Exhibitors: Here's What You Need to Know about the SXSW Trade Show appeared first on SXSW.