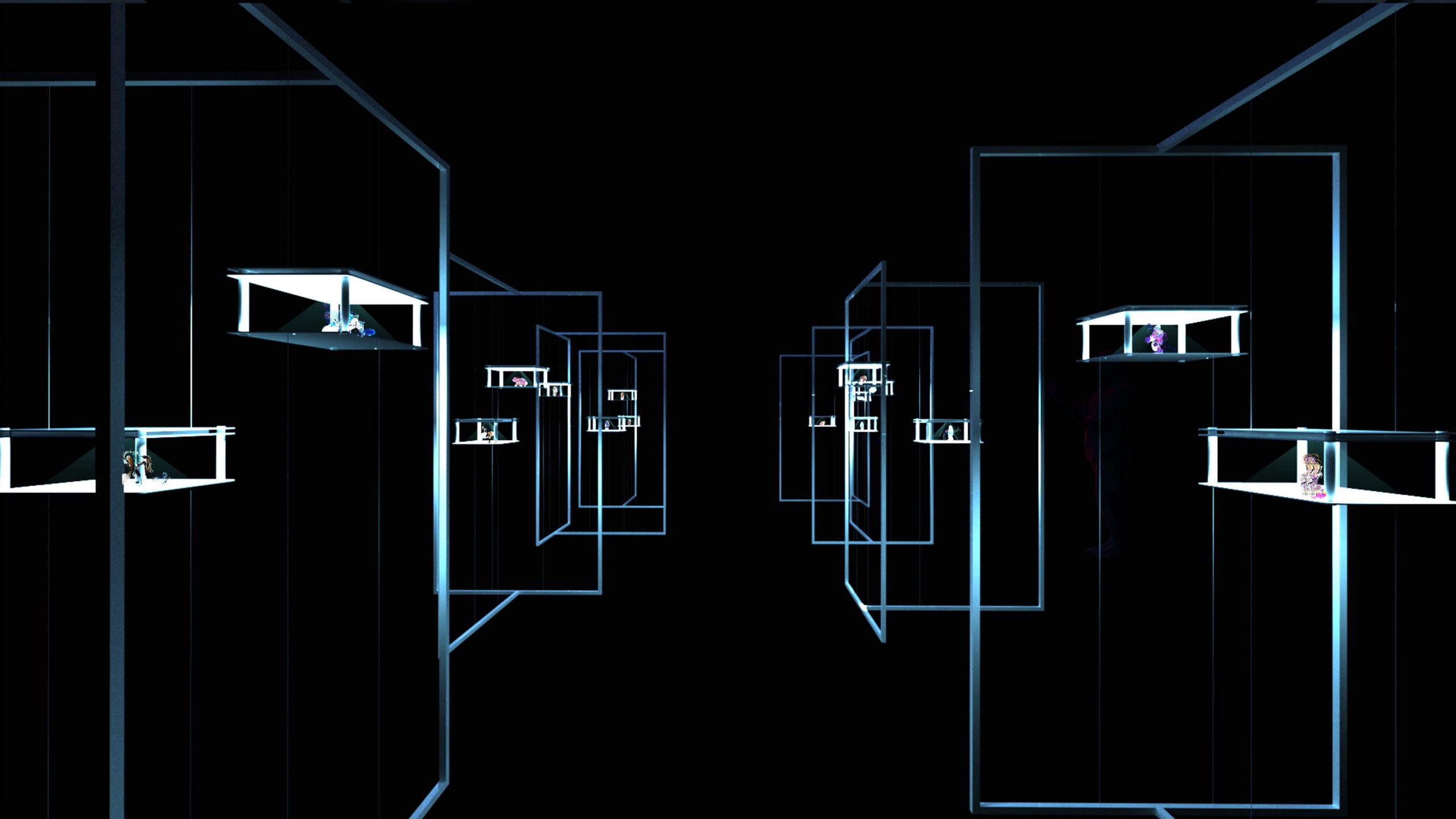 Announcing four art installations to be exhibited at the annual SXSW Art Program from March 10-17, 2023 in Austin, TX.
Each year, the SXSW Art Program showcases experiential and conceptual visual artworks that apply emerging technologies and immersive environments to spark discovery, inspiration, and connection. Incorporated into the broader ecosystem of creativity and innovation at SXSW, attendees can experience one-of-a-kind art installations by both established and emerging artists throughout SXSW venues and the city of Austin.
"The 2023 SXSW Art Program highlights three artists using mixed reality to explore Afro-Futurisms, holographics that morph between human and animal anatomy, and viewer interactivity beckoned by the use of Quantum Physics," said Aimée Everett, SXSW Art Program Curator. "These artists are beginning to interrogate these varied topics that impact society and are confronted on the SXSW stages."
Explore the newly-announced 2023 Art Program installations below as well as art-related Conference sessions. Stay tuned for more Art Program announcements throughout the season.
2023 SXSW Art Program
Ancestral Archives by Josie Williams in association with EY metaverse lab
Cultivating new connections between the revolutionary leaders of the past and a future generation of critical thinkers, Ancestral Archives brings historically significant Black leaders to present-day communities through a new dimension. This installation presents the manifestation of these leaders in chatbot form and blurs the line between the physical and digital as you step into their world. In collaboration with the EY metaverse lab, this work seeks to explore how AI can be enriched with the connections, experience, and knowledge of the past to build a better society. This project leverages learning capabilities of deep neural networks with Black culture to create a thoughtful, one-of-a-kind physical and digital experience that showcases the power of harnessing technology for positive human impact.
Mixanthropy by Meichun Cai and Yiou Wang
Mixanthropy refers to the capturing of a deity's potential for fluidity and change. Transitioning between animal and human states, Mixanthropy explores the divine hybridity through body transformations based on anatomical isomorphism, with mimetic skin textures echoing different environments with datasets generated by AI. The hybrid mixanthrope morphs into other bodies with mocap retargeted on human and nonhuman bodies. This work synchronizes motion, as an externalization of the intrinsic psyche, with 3D body deformation and metamorphosis into humanoids, chimeras, and otherworldly beings. In the process of creation, Meichun and Yiou performed a series of different animist movements while imagining themselves transitioning between their original species, Homo sapiens, and another species. Using motion capture technology of MIT Immersion Lab, Meichun and Yiou choreographed and personally provided movements to the shapeshifting beings.
Quantum Jungle by Robin Baumgarten
Quantum Jungle is an interactive art installation that playfully visualizes Quantum Physics concepts on a large wall filled with novel touch-sensitive metal springs and thousands of LEDs. It calculates Schrödinger's Equation to model the movement of a quantum particle and demonstrates concepts such as superposition, interference, wave-particle duality, and quantum waveform collapse.
The design and construction of the hardware is a deliberate choice to complement the quantum scientific content: On one hand, the springs and lights correspond directly to the particle-wave duality of quantum particles, and on the other hand, the immediacy and tactility of the spring input are an intentional antithesis to how mysterious and beyond human grasp quantum effects are.
The interactions have been designed from scratch over several iterations to create a positively playful audience experience drawing on Robin Baumgarten's artistic and technical background in both game design and designing low-level hardware: satisfying and 'juicy' interactions meet extremely high refresh rates and low latency inputs on bespoke hardware. Together with a scientifically accurate implementation of Schrödinger's Equation, Quantum Jungle becomes an innovative and unique art installation that makes quantum mechanics more approachable and entertaining than ever before.
STONE SPEAKS by Nancy Baker Cahill x Sophia the Robot
STONE SPEAKS is a monumental, narrative augmented reality artwork inspired by conversations between artist Nancy Baker Cahill and Sophia the Robot. Commissioned by Borderless Capital to reimagine climate crisis solutions, the artists exchanged thoughts about the accelerating climate crisis on our imperiled planet, and the adaptive potential of human-machine collaboration.
The work first appears as a massive particle field comprised of silicon and carbon elements. In a reverse Big Bang, the particle field contracts into a molten core, and then swells into a vibrant planet, textured with digital paintings created by Sophia as an extension of her conversation with Baker Cahill. The final resulting work speaks to the poetics of human-machine collaboration—what might be possible if they worked interdependently toward mutual survival and a robust restoration of the world's natural ecosystems?
The interactions have been designed from scratch over several iterations to create a positively playful audience experience drawing on Robin Baumgarten's artistic and technical background in both game design and designing low-level hardware: satisfying and 'juicy' interactions meet extremely high refresh rates and low latency inputs on bespoke hardware. Together with a scientifically accurate implementation of Schrödinger's Equation, Quantum Jungle becomes an innovative and unique art installation that makes quantum mechanics more approachable and entertaining than ever before.
Conference Sessions with an Art Focus
Birds Tell Us: Inspiring Conservation Through Art
Birds, the original musicians, have inspired joy and art from time immemorial. They also give us critical information about our environment's health, and science shows that two-thirds of North America's birds are threatened by climate change.
Join us to hear how hundreds of the biggest names in entertainment - including Wes Andersen, Yoko Ono, ANOHNI, Karen O, Lee Ranaldo, Yo-Yo Ma, Beck, Laurie Anderson, Andrew Bird, and panelist Lili Taylor - contributed their time and talents to drive conservation action and benefit the National Audubon Society's mission to protect birds and the places they – and we all - need
Receive insights into how art can serve as a catalyst for change and learn more about what you can do to help birds today.
Birds tell us. Now is the time to listen.
Data Art: Processes and Perspectives
By using data as a tool for expression, data artists illuminate untold stories about our world. The processes employed by these artists vary just as much as the art they produce: ranging from data visualization to hand-crafted sculptural installations. The choices that artists make when working with data are distinctly different from those made by analysts, and yet, they offer a mirror through which to view our world and consider the soft subjectivity of 'hard' quantitative information. This session will engage data artists from different disciplines and career stages in conversation about their varied career paths, artistic processes, and perspectives on data art, and hopefully inspire attendees to introduce data to their art flow, or creative thinking to their data flows.
Data Art as Time Capsule of the Anthropocene
If we put the time that human exists onto a clock, we are only the last two seconds. Can we stop climate change if we get out of the regular perception of time, compress and defamiliarize time? Data is the footprint of climate change over time. Not another impersonal, boring, and clinical chart on climate data! Our panel will explore how data tell stories about climate change by observing their various ways of looking at the time through data art and how we can turn the esoteric numbers into embodied experiences and foster connections. Panels will share their insights on deep time, data humanism, handbuilt data art with recycled materials, data feminism, and calculation of carbon footprint for their artworks. Our panelists are artists and designers deeply connected to data and ecology.
The Decentralization of Art as We Know It The Kunstmuseum Basel, which is considered to be the first-ever public art museum, opened in 1661. Four centuries later, 55,000+ art museums now exist in 202 countries around the world. While each museum is unique, they all share one common practice: the art is selected by a small group of curators. Artists create their work with the intention to entertain, arouse and confuse the world. However, somewhere along the way, it became the curators' decision as to who gets to see what. It is no secret that art museums need to evolve as art is now being shared and circulated through new mediums. So, now the question is, what if the Smithsonian was owned and curated by the Internet? How? Decentralize it. The result? People from all backgrounds can finally feel represented through art.
The Future of Digitally Native Art and Music
A discussion of actionable steps, balanced with visionary future thinking and concept building. The conversation will focus on what implementing XR looks like for working artists and musicians. The conversation will address how creatives can navigate the full scope of the Metaverse, including the logistics, UX / UI, curation, and idea development for future projects. The session is designed to reflect on why right now is "the best time for artists and musicians" by taking full advantage of immersive technology. In doing so, creatives will retain ownership of their ideas, while simultaneously building community. Key topics will also focus on what steps can be taken now to start on a path for future world builders, harnessing all aspects of their creativity.
NASA Combines Art & Science To Explore & Innovate
"The greatest scientists are artists as well." ~Albert Einstein. Traditionally, art and science have been treated as separate disciplines, but when paired, they impact and enhance one another. A great deal of creativity is required to make scientific breakthroughs, and art is just as often an expression (or product) of scientific knowledge. NASA understands the interconnectedness of art and science, and the pairing is essential to the advancement of science because creativity involves imagination, and imagination is visualization. Things that can be conceptualized, visualized, or imagined in the mind are the things that can be created. NASA leverages the interconnectedness of art and science in the creation and execution of all its missions and in disseminating that information broadly.
Remaking an American City Using Arts and Culture
The City of Detroit, historically a headquarters for transformative music, design and art, is transforming itself, using beautification as a tool for commerce and population growth.
The city is documenting every mural in the city, placing each on a Mural Map with artist bios so residents and tourists can digitally meet and appreciate a creative workforce that is among the best in the country. The city also is placing dozens of kiosks citywide that feature art, restaurant reviews and directions to the most popular spot near WHERE YOU ARE.
Mayor Mike Duggan's Blight to Beauty campaign is centered on tearing down every bit of ruin porn, commissioning hundreds more murals and activating art alleys across the city.
Using Art To Lift Homeless, Enhance Transit
Mural Arts Philadelphia's innovative Color Me Back program offers people experiencing economic and/or housing insecurity an opportunity to make art, earn same-day pay, and access social services. In partnership with the Southeastern Pennsylvania Transportation Authority (SEPTA), the program reimagines the transit agency's public spaces with a series of colorful murals adorning its walls and concrete columns. Participants in the program engage with outreach specialists who link them with support services, including social and behavioral health services and potential longer-term employment. Learn how Color Me Back positions art as a catalyst for change to create healthier, stronger, and more beautiful communities.
Visual Storytelling: A Way to Elevate Communities
The social media explosion has instantly turned all of us into storytellers. We all try to tell stories that matter to us.
People and communities matter as they shape the world we live in. The stories we share create narratives that have the power to educate and elevate the profile of people and communities.
Through imagery, the stories of people can be celebrated and amplified to create a nuanced context for the narrative.
Storytelling plays an integral part in understanding our human experience. How we transfer information about culture, circumstances, and experiences from one person to the next is crucial to bringing awareness to the nuances of humanity. Our panel explores the visual mediums through which we share our diverse stories across the world to shape narratives.
Join Us
Register to attend SXSW 2023 this March 10-19 in Austin, TX. Explore Conference sessions, Music Festival showcases, Film & TV Festival screenings, world-class Exhibitions, and beyond on the SXSW Schedule.
Follow us on Facebook, Twitter, Instagram, TikTok and SXSW News for the latest event info and announcements.
Preview Image: 2023 SXSW Art Program, Mixanthropy by Meichun Cai and Yiou Wang
The post Art Program Installations Announced for SXSW 2023 appeared first on SXSW.