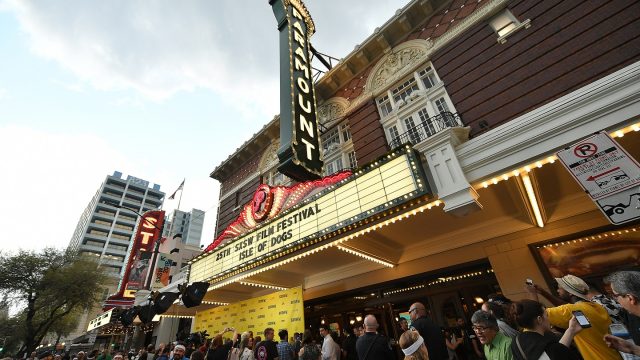 Every March, for nine days, creatives of all stripes gather in Austin, Texas for the acclaimed SXSW Film Festival. Featuring provocative dramas, documentaries, comedies, genre standouts, and more, the SXSW Film Festival celebrates raw innovation and emerging talent from both behind and in front of the camera.
Perhaps you've already decided to attend this year's event or you're excitedly waiting for our upcoming Film announcements (Tip: Keep your eyes peeled in January) to make your decision. Either way, take a look below to learn about the great city of Austin and its rich film history and be sure to add these stops during your trip to Texas.
Historic Film Venues
While in town for the SXSW Film Festival, be sure to catch a film screening at one of Austin's most historic venues; the Paramount or the State Theatre. Since its opening in 1915, the Paramount, Austin's original performing arts venue, has hosted more than 10,000 artists from Houdini to Katharine Hepburn. In celebration of its 100th anniversary, in 2015 the Paramount recreated their once iconic blade sign, complete with 1,386 buzzing lights bulbs! Read about the mystery that plagued the sign here. Known for its theatrical architecture and central location on Congress Avenue, the Paramount Theatre is an iconic Austin venue and home to many World Premieres during the SXSW Film Festival.
Similarly, the State Theatre is considered a cornerstone to Austin's downtown arts district. Built in 1935, next door to the Paramount, the State Theatre was the first theatre in Austin designed specifically to show motion pictures.
Famous Austin Film Locations
Your adventure in Austin wouldn't be complete without spotting some of the film locations that have made this city stand out on the big screen. Keep reading to learn about some of our SXSW alumni films and where they were filmed.
Song to Song
Song to Song, the SXSW 2017 World Premiere and Opening Night Film directed by Terrence Malick, is a modern love story set against the Austin, Texas music scene. Look for iconic film spots at the University of Texas Stadium just north of downtown and enjoy a walk through campus. Afterward, swing by West Fourth Street, near the outside of Hangar Lounge, to find the very same downtown streets Ryan Gosling strolled down in the movie.
Mr. Roosevelt
Winner of the 2017 SXSW Film Festival Audience Award for Narrative Spotlight and the Louis Black "Lone Star" Award, Mr. Roosevelt is a coming-of-age comedy about a struggling comedian who returns to Austin after a death in the family. Head to the Brew and Brew or the French restaurant Justine's to follow in the footsteps of Mr. Roosevelt's main character played by Noël Wells.
Boyhood
Richard Linklater's Boyhood is a Narrative Feature that covers twelve years in the life of a family and was a SXSW 2014 Film Festival Favorite. The film was nominated for five Golden Globe Awards and won Best Motion Picture – Drama, Best Director, and Best Supporting Actress for star Patricia Arquette. Be sure to head to the Continental Club, a historical music venue, where director Richard Linklater filmed main characters Mason and Sheena taking in a country band. Or, grab a bite to eat at Cafe Josie on West Sixth Street, where Olivia (Patricia Arquette) breaks some big news to her kids.
Take it All In
After catching a film screening at the Rollins Theatre at The Long Center, be sure to stop for a minute on the grass and enjoy the beautiful view of downtown Austin from across Lady Bird Lake; reflect on how thrilled you are you came to SXSW, and then keep moving onto the next screening!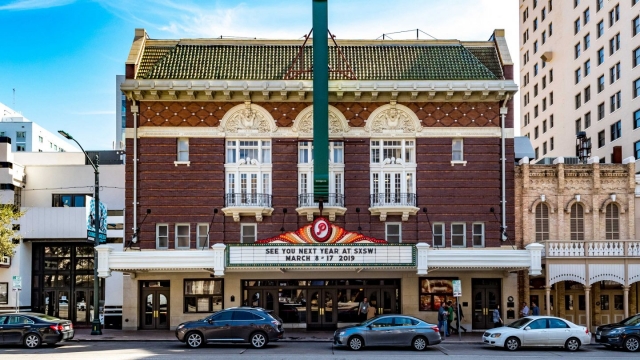 Join Us For SXSW 2019
Register and book your hotel now to save! The Film Badge gets you primary access to all SXSW Film events including Film Keynotes and Featured Sessions, world premieres, round tables, workshops, parties, and more. Over the course of nine days, the SXSW Film Festival hosts over 450 screenings! Film registrants also have primary access to Convergence events, including the Comedy Festival and nine unique conference tracks, as well as secondary access to most Interactive and Music events.
Follow us on Facebook, Twitter, Instagram, and SXSW News for the latest SXSW coverage.
SXSW 2018 "Isle of Dogs" premiere at the Paramount Theatre – Photo by Michael Loccisano/Getty Images
The post Historic Austin Theaters, Iconic Film Locations & More to Explore During the 2019 SXSW Film Festival appeared first on SXSW.