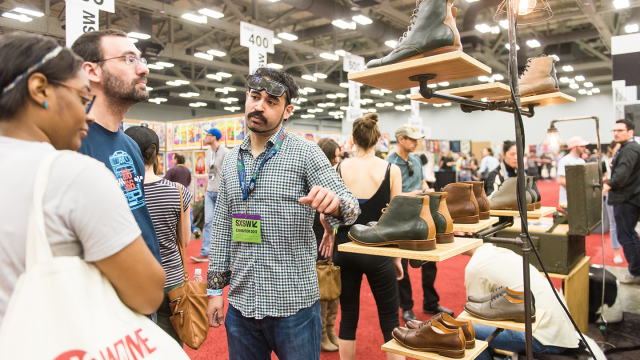 Whether you're in between panel discussions or showcases, Flatstock 69 and SXSW Marketplace hold something new and unique for you to discover at SXSW. Imagine a giant pop-up shop featuring the best brands around town and around the world! Merchants and artists from all over will be in attendance for a one-of-a-kind shopping experience. Some of our favorites include Zenni, Mitchell and Ness, Icebreaker, Mokuyobi, Aviator Nation, and Oxford Pennant — but that's only the tip of the iceberg!
Add Marketplace to Your Schedule
Add Flatstock to Your Schedule
SXSW Marketplace, along with the iconic poster showcase Flatstock 69, is set to be better than ever. Art, jewelry, clothes, and tons of sweet merch will be in Exhibit Hall 5 of the Austin Convention Center, all for your perusal! Flatstock (March 14-16) and Marketplace (March 15-16) are both open to all SXSW badge holders as well as local visitors with a free SXSW Guest Pass. Discover your new favorite brand, accessorize your flyest outfit, get the perfect housewarming or birthday gift, and more.
The Flatstock 69 poster show is presented by the American Poster Institute and highlights a diverse range of poster artists with vibrant, inspiring work. Not only can you swipe some new threads, but you can also find some new home or office decor as well! Each of our vendors has a special touch that resonates with SXSW, and that special something is waiting for you at Flatstock 69 and SXSW Marketplace this year!
While there, make sure to check out the Flatstock Stage. The stage features special performances from up-and-coming showcasing artists from around the world in a perfect setting to unwind and enjoy the music.
Happy shopping!
Photo by Lauren Lindley
The post Flatstock 69 & SXSW Marketplace Are Here appeared first on SXSW.