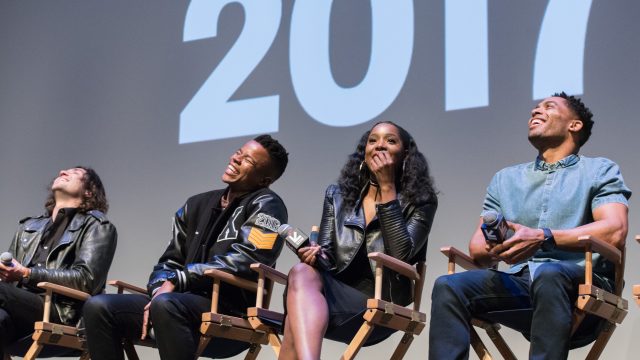 Only a few weeks left until the official film submission deadline on Friday, September 22 – but don't rush! We have one last deadline on October 20 before submissions officially close for SXSW 2018.
As with every film festival, the SXSW Film Festival has its own specific rules concerning screening eligibility.
General Eligibility
You must submit via the SXSW Cart. We do not use any other submission platform. You also must submit a link to a digital copy of your film, so have that ready to go when you start your application.
To be eligible to submit to SXSW 2018 your film must have been completed in 2016, 2017, or be on track to be completed in early 2018. The dates of production don't matter, some films take 10 years to make, what matters is when you complete the film.
As an Oscar qualifying festival for Animated, Narrative, and Documentary Short Films, SXSW follows the same guidelines as the Academy of Motion Picture Arts and Sciences. They define a short film as any film that has a running time of 40 minutes or less, including all credits. A feature is defined as any film with a runtime over 40 minutes.
If your short or feature film has screened at another festival outside of Austin, it is still eligible for consideration at SXSW! While we do consider premiere status, it is not the only factor in our selection process.
If you want to submit a film or episodic content from outside of the United States, you are more than welcome to do so. We play films from all over the world, without exception!
Features
Features may NOT be posted online or available for download or purchase on any platform, including but not limited to VOD, digital download, or DVD/Blu-Ray.
However, DVDs as incentives for the film's crowd-funding campaign will NOT be considered as a "publicly available" film, so those films are still eligible. We ask that you insist the incentive DVDs not be used for any public screenings. We also advise that if you are considering creating this type of crowd-funding incentive, you do not make your DVD copies available until after your festival premiere and run.
Additionally, a film is ineligible if it has had any sort of public theatrical screening in Austin, TX, including any other festival in Austin. Cast and crew screenings or private invite-only screenings do not count as public exhibition, therefore will not count against the film's eligibility.
Shorts
Shorts can be available online without affecting their eligibility. But a short film is ineligible if it has played in a theatrical setting here in Austin, TX. Again, cast and crew screenings do not count against your film's eligibility.
Episodics
For our Episodic screening section, we will only consider pilots/first season content for their World Premieres. So your episodic content cannot be available online, have already had its broadcast premiere, or be available in any other form. We will not consider any additional season premieres (i.e. second or third seasons, etc).
To find out more about film eligibility, check out the Film Submission FAQ.
Join Us For SXSW 2018
Grab your Film Badge today for primary access to all SXSW Film events including world premieres, roundtables, workshops, and parties. Register to attend by Friday, October 20 and save before prices go up in November. Make your hotel reservations through SXSW Housing & Travel for the best available rates. We hope to see you in March!
Follow us on Facebook, Twitter, Instagram, and SXSW News for the latest SXSW coverage, announcements, application tips, and updates.
World Premiere of Dear White People – Photo by Ann Alva Wieding
The post Film Submission Tips: Feature, Short, and Episodic Eligibility appeared first on SXSW.