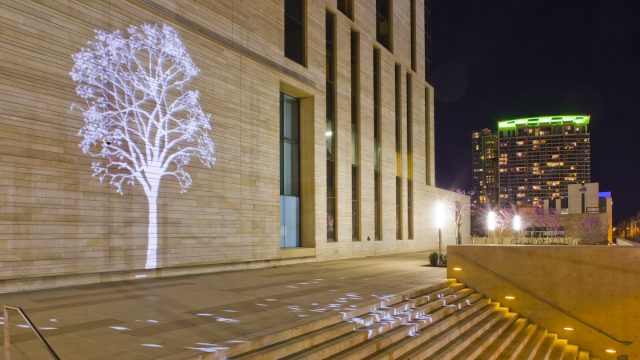 SXSW is awaiting your project ideas for the 2018 SXSW Art Program. Showcase your experiential and visual artwork to spark discovery, inspiration and connection at SXSW 2018. The program offers a great opportunity for your creative work to gain exposure to new audiences in the fields of music, film, and technology. Enter your idea before the official deadline on Sunday, September 10, 2017 11:59pm PT.
The art program highlights emerging and established artists, and serves as a launching point for collaborations and discussions around the role of visual and digital media arts in culture and technology. The inaugural art program was held at SXSW 2017.
All visual artists – studios, designers, collectives, and individual artists – are eligible to enter their project. Once we have collected all proposals, final selections will be made by the SXSW Art Team with proposal feedback from our Advisory Board members. Look over the art application details and read tips on applying to learn more about proposing an idea for the 2018 SXSW Art Program.
Don't miss out on the chance to participate in the innovative and inspirational environment at SXSW 2018 by having your work showcased in front of thousands of creatives, global professionals, industry leaders, and more. Enter now before Friday, September 8, 2017 at 11:59pm PT.
2016 SXSW Art Installation, Tree by Simon Heijdens – Photo courtesy of the artist
The post Extended: 2018 SXSW Art Program Application Official Deadline On September 10 appeared first on SXSW.