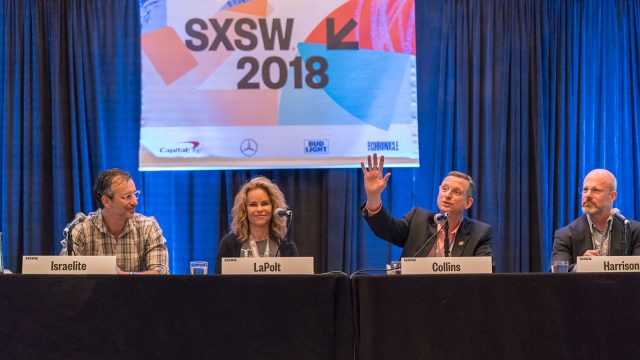 SXSW Conference sessions within the Continuing Legal Education Track, or CLE Track, discuss legal perspectives on trends across the music, film, and tech sectors. Designed for US-based attorneys, entrepreneurs, and beyond – the track will include up to 12 hours of accredited sessions available at no extra cost to SXSW registrants.
"With topics covering hot-button legal issues across the music, film, and interactive industries," said SXSW Programmer Adam Wode. "The CLE Track epitomizes SXSW's convergence programming. These accredited sessions provide a tremendous value for attorney's whose professional careers involve the creative community."
Participate in these converging sessions and explore topics on space law, obtaining artists' persona rights, tips on music licensing for film and more from March 14-16.
CLE Sessions Highlights
Blockchain: A New Opportunity and Legal Considerations
Speakers: Tung Chan, Tju Liang Chua, and Olga V Mack
What is blockchain? How will it impact our future? Will it affect the practice of law? What should general counsel do to get ready? This panel will begin with an explanation of blockchain technology and applications and their transformative potential. The panel will discuss various broad applications of blockchain technology, including applications offered by companies they serve on, and how blockchain is so much more than cryptocurrency.
Reaching the Final Frontier: An Exploration of Space Law
Speakers: Audrey Powers, Caryn Schenewerk, and Franceska Schroeder
The rate of innovation and expansion in commercial space is pushing the limits of the statutes and regulations governing these activities. This panel will discuss recent space industry developments, such as rapid rocket reuse and private human spaceflight, that have propelled significant Congressional and Administrative legal reform efforts. Expected expansions and possible reorganizations of space law authorities within the federal government will be examined in light of the current reconstitution of the National Space Council and the Space Policy Directives that have been adopted.
Who Am I?: Rights in Artists' Personas
Speaker: Stan Soocher
Rights in artists' personas have taken center stage in the age of artist branding. Name, voice, likeness, and other elements of an artist's identity are licensed for a variety of uses, such as concert merchandise, product endorsements, video games and hologram tours. With this comes heated litigations over who controls these rights, from the personas of Aretha Franklin, Jimi Hendrix, and Bob Marley to cases involving The Roots and the estate of jazz legend Thelonious Monk. This SXSW CLE presentation examines significant court decisions on and key legal principles in artists' personas, including which state's right-of-publicity law may apply, the interplay of related federal claims artists may have for unauthorized uses of their personas and how the monetary value of persona rights is determined.
Music Licensing Tips and Tricks for Film/TV
Speakers: Roanna Gillespie and Amy E Mitchell
Music plays an important role in all types of programming, but the licensing process is frequently misunderstood. Who do you contact for permission? What rights do you need? What will it cost? Music and film attorney Amy E. Mitchell will outline the basic legal framework and process for music licensing. Music supervisor Roanna Gillespie will join to share some tricks of the trade.
Virtually Legal: Insights on AR, VR, and the Law
Speaker: Mary Innis
Although virtual and augmented reality (AR & VR) have been around in some capacity for years – the demand for both has rapidly expanded recently. In entertainment and media, companies are attempting to keep up with the rate of development of AR & VR technologies. Although attorneys may not be the first group thought of to bring AR & VR to life, they are involving themselves from the inception of these new technologies to get ahead of the inevitable new legal issues that will follow. In this Dual, an in-house attorney at a leading entertainment and media company will give a demonstration of the AR & VR technologies they are working on, as well as discuss the pressing legal issues in the field with an experienced outside counsel.
Purchase your SXSW Badge and reserve your hotel today to experience these sessions along with 10 days of screenings, showcases, exhibitions, networking, and more this March 8-17 in Austin, TX.
Stay in the SX know and follow us on Facebook, Twitter, Instagram, and SXSW News for the latest SXSW coverage and announcements.
"Music Modernization Act: Changing the Licensing Landscape" session at SXSW 2018 – Photo by Scott Paxton
The post Earn CLE Credits at SXSW from Sessions on Space Law to Music Licensing & More appeared first on SXSW.