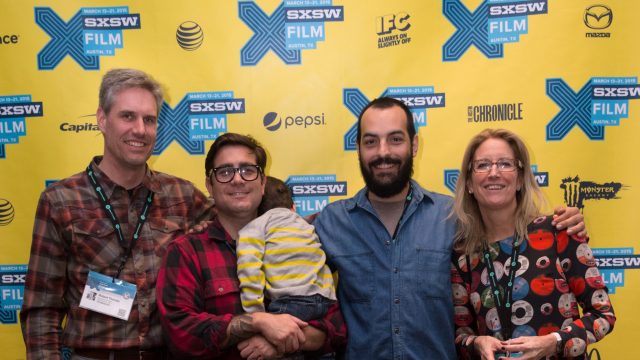 At SXSW 2018 we celebrated the 25th Edition of the SXSW Film Festival and had the pleasure of sharing stories, memories, and reflections from our distinguished alumni. We had a blast telling these tales and want to keep the party going! Today we move the spotlight to Laura Heberton.
Heberton has produced two features and one short that world premiered at SXSW. In 2015 she produced God Bless the Child and Funny Bunny, and in 2017 she worked on Gut Hack. Read about her 2015 SXSW Film Festival experience below:
"Honestly, one of the best things about SXSW is getting to see new work and getting to meet the people who made it. The indie film community is tight and crazily supportive of one another and that love is on intense and glorious display in Austin. Many new collaborations arise there.
"At the 2015 fest, I had heard all the wild buzz about KRISHA, but hadn't had a chance to see it before the awards ceremony. When it won best narrative, it seemed like half of the audience must have worked on it as the room went nuts. Along with Trey [Shults], a LOT of people (it's a big family!!) went up on stage. In the frenzy of hugs and disbelief and excitement, no one up there was going to the podium. Suddenly, a gorgeous, mesmerizing, force-of-nature woman grabbed the mic and proclaimed, arms outstretched, 'I AM KRISHA!!!' And all I could think was, 'Wow, oh wow. I MUST must work with her!!!!' After seeing the film, doing so became a bit of an obsession.
And I just did, with her second leading feature film role, in Kate McLean and Mario Furloni's Freeland this August. All that beautiful, powerful energy is now in the can, and we cannot wait to release it on the screen next year."
Join Us For SXSW 2019
Register and book your hotel now to save! The Film Badge gets you primary access to all SXSW Film events including Film Keynotes and Featured Sessions, world premieres, round tables, workshops, parties, and more. Over the course of nine days, the SXSW Film Festival hosts over 450 screenings! Film registrants also have primary access to Convergence events, including the Comedy Festival and nine unique conference tracks, as well as secondary access to most Interactive and Music events.
Follow us on Facebook, Twitter, Instagram, and SXSW News for the latest SXSW coverage.
God Bless the Child Photo by – Miklos Lorant
The post Laura Heberton – SXSW Film Festival Alumni Stories appeared first on SXSW.