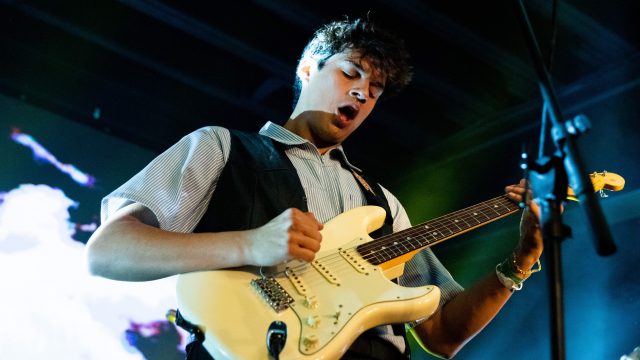 Each March, the SXSW Music Festival invites 2,000 artists from around the world to Austin, Texas for a week of performances in front of the SXSW community of musicians, filmmakers, tech innovators, journalists, and more. To curate a diverse lineup of emerging talent and established artists, the Music Festival team selects each season's lineup from a pool of thousands of applicants.
The Showcasing Artist Application final deadline is October 25. To help you put your best foot forward, members of the Music Festival team have provided tips on what they are looking for in a successful application. Browse tips and get going on your application – we are excited to hear your music.
Showcase Application Tips
Start Organizing Now and Submit Your Application Early
A good way to provide a complete application is by approaching it under the assumption that we don't know anything about you or your career as an artist. Take a few steps back before submitting and ensure that you've included everything that we need to know. At the same time, being over-critical can be a hindrance! Be aware that the sooner you submit your application, the better your chances are of being reviewed by a person with fresh ears. – James Minor, Head of Music Festival
Be Thorough When Describing Current Developments
When we invite artists to showcase at SXSW, we want to make sure they're in a position to maximize their time here. To put it simply: there should be a reason for the artist to be here other than simply checking off a box. Really consider how SXSW fits in with your timeline and goals as an artist. Will you have new music to promote? Is SXSW going to be the kick off for a larger tour? Are you setting yourself up to advance your career in a meaningful way at SXSW?
With these questions in mind, it is very important that we know about any current or potentially upcoming developments in your career. Take the time to paint a thorough picture of your plan and vision over the next 12-18 months. Don't spare any details. – Rory Burbeck, Music Festival Programmer
Let Us Know Where Your Music Has Been Featured
One of the most important parts of your application is showing us where your music has been featured. It can be anything from playlists, blogs, magazines, TV, movies, or video games. It doesn't even need to be a Spotify editorial playlist either, user-curated playlists are just as important. So if your music has been showcased anywhere please include a link in your application. – Brian Hobbs, Music Festival Programmer
Focus On Your Strengths
The application is designed to give artists an opportunity to show off their music. To do this, we ask about everything that could apply to your music career. If some of it does not apply to you, don't worry! Just focus on adding emphasis on the sections of the application that do. Be sure to take advantage of the Artist Bio field in the application – a thorough bio will make it much easier for the Music Festival team to get familiar with your music. – Hayden Bagot, Music Festival Content Editor
Don't Be Discouraged
Bands aren't always accepted the first time they apply (or every time they apply) to SXSW. Part of our grading process involves determining whether a band's career is at the right stage to showcase in front of an international audience of music industry professionals. So, as your career develops and your story continues to build, we encourage bands to apply again to tell us about your progress and why you're ready to showcase this year at SXSW. – Dev Sherlock, Music Festival Programmer
Apply to Showcase at the 2020 SXSW Music Festival
2020 SXSW Showcasing Artist applications are open. Showcasing at SXSW provides an opportunity to meet like-minded creatives from around the world as well as increasing your visibility by performing in front of an audience of made up of industry pros and musicians alike.
The Final Deadline to apply to perform at the 2020 SXSW Music Festival is October 25.
Attend SXSW 2020
Registration and housing are now open for the 2020 SXSW season. Get inspired by previous Keynotes, Featured Sessions, Showcases, Red Carpets, and Q&A's on our YouTube Channel, and make your plans now to join us in March 2020. Booking your hotel soon using SXSW Housing & Travel will get you the best rates and locations.
Discover SXSW Music Festival alumni — stream our Apple Music and Spotify Playlists, surf our YouTube Music Video playlist, and listen to SXSWfm mixes on Mixcloud.
Follow us on Facebook, Twitter, and Instagram. and SXSW News for the latest SXSW coverage.
Omar Apollo – Photo by Alexa Gonzalez Wagner
The post Showcasing Artist Application Tips from the SXSW Music Festival Team appeared first on SXSW.