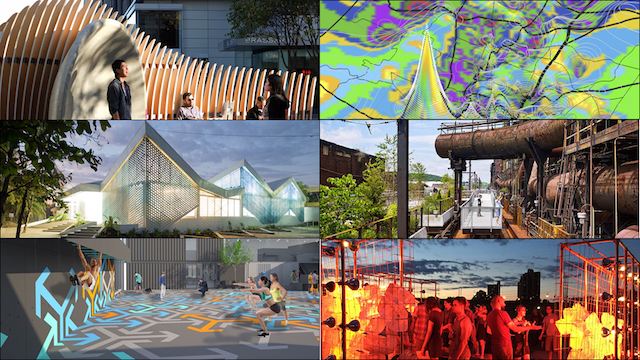 Written by Julie Yost
The SXSW Eco conference creates a space for business leaders, investors, innovators and designers to interact, build strategic alliances, and find real solutions to some of the greatest challenges of our time. Each year, as part of our dynamic programming, we host two pitch competitions: The Startup Showcase and Place by Design.
SXSW Eco's Place by Design (PXD) competition celebrates innovative design work that transforms our everyday surroundings and creates positive social and environmental impact. Place by Design highlights all types of projects that rethink how we use and interact with place, including public art, urban interventions, digital technologies and architecture.
We are excited to announce the 2016 PXD Finalists!
Expanding on last year's popular competition, we've grown the number of categories from 5 to 6. This year, we will showcase 36 extraordinary designs at SXSW Eco that rethink the potential of the places around us.
The work of this year's Finalists runs the gamut from life and death (a maternity ward meant to lower Uganda's infant mortality rate, an initiative to compost the deceased) to funny and delightful (giant guerrilla inflatables, weathervanes that monitor media fearmongering). Above all, they demonstrate that place-based design has far-reaching influence, and that all types of places, from the lowly median to the standard storefront, to the towering, abandoned steel plant, can be repurposed to be inspirational and of community value.
The Place by Design Finalists include artists, designers, non-profits and startups, and were chosen by our Review Board and staff from an overwhelmingly talented pool of applicants. They will join us at SXSW Eco and present their design to the Place by Design Jury in our popular, fast-paced pitch competition. The winners will be announced at the SXSW Eco Awards Ceremony on Wednesday, October 12.
In addition to Place by Design, this year's program features talks, panels and workshops exploring creative placemaking, architecture and urbanism across ten program themes. Highlights include Keynote William McDonough, a biophilic cities workshop with International Living Futures Institute and a discussion about the intersection of Hip Hop, social justice and architecture with architects Mike Ford and Bryan Lee. SXSW Eco is the only place where architects and designers can advance their careers (and earn AIA continuing education credits) while building valuable collaborations across our interdisciplinary community.
Register now to save off the walk up price, and join us in Austin October 10-12.
SXSW ECO 2016 PXD Finalists
The post 36 Ways to Rethink Cities: Announcing SXSW Eco's Place by Design Finalists appeared first on SXSW.