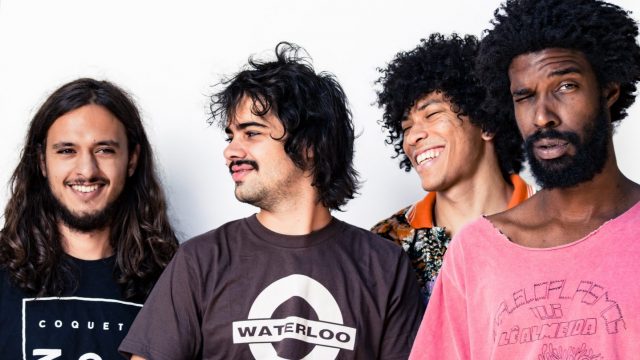 All photos by Dylan O'Connor
Brazilian psych-rock band Boogarins is nearing the end of long tour in the States. The quartet has been here since SXSW, recording their new record in between shows. They just concluded a four-week residency at Austin's own Hotel Vegas before embarking on a final leg of their tour on the east coast.
We had the opportunity to hang out with the band last week at the South Austin house they've been living in since mid-June, chat with them about their new record and live album, and snap a few portraits.
Check out the full gallery after the Q&A with their lead singer and guitarist Dinho Almeida below.
Q&A
How was the residency at Hotel Vegas? Any highlights?
In a few words it was hot, wet and wild. We had such a great time in the four days that we played, people who had showed up to the four concerts and the whole thing just went better by each concert we did. What made the two last ones be the badass ones, more packed, more hot, more wet and wild, with the crowd getting really deep in our music, giving us that awesome feeling of playing at home for old friends or just people that we have a good connection. I think we can say that this two things, the "getting better" vibes from one concert to the next one and the good link with the crowd, are the highlights of the whole experience.
Are there any cities you're looking forward to on the upcoming tour?
We are kinda more excited to go back to Brazil, but it is alway good to play in Atlanta, we have some good band friends we're playing with in Boston and the concert in New York, at Central Park in the Summerstage Festival seems to be a fun experience too, and we are always open to good surprises on the road, you never can underestimate what an unexpected night and place can give to you.
Tell us how it's going with recording the new album in Austin. Any changes in approach to writing or production from previous albums?
The new album is a process, and it could be longer than we were first thinking. We have actually been collecting all of our live shows for the last six months and have been mixing them and fucking with the sounds with some re-amping – so that you get a real sense of the live Boogarins – not just the signal coming through the board. The residency and other shows have taken up most of our time, plus this live album project. We kinda are mixing both experiences that we've had before, the home recording thing and the club vibe. We are working in a house, with Benke leading the mixing process, but we also have support from Space Studios which is right on the side of the house that we are living. I think this live album will have more of the four heads in the band exposed in a clearer way, I mean, still the four minds melted together to reach one taste that we all like, but it will be easier to get personal flavors in the sounds and performances together.
How have your experiences performing at SXSW been in the past?
We did in 2014, and was like a shock treatment. Austin's SXSW vibes are the first thing that get in touch in United States and kinda our first experience outside Brazil too, and we did four concerts in the first day, like four great, full of energy concerts. So we have a lot of good memories of this moments, we made good friends over this first touch and just expect to have better one at some point, maybe next year, as this residency thing made us leave some new Boogarins listeners thirsty for more of our music.
What's next after the tour?
After we go back to Brazil we will have a short Iberian tour, a few concerts in Portugal and Spain, we always had a good answer for our music in these countries and will be great to go back and play some good shows there. We must finish the record between some Brazilian days, because people miss us playing there too, so there's no rest in our future but a lot of good work and I think this is good for the people who are into our music and for the ones who aren't yet.
Photo Gallery
All photos by Dylan O'Connor
The post Q&A and Portrait Gallery: Boogarins appeared first on SXSW.