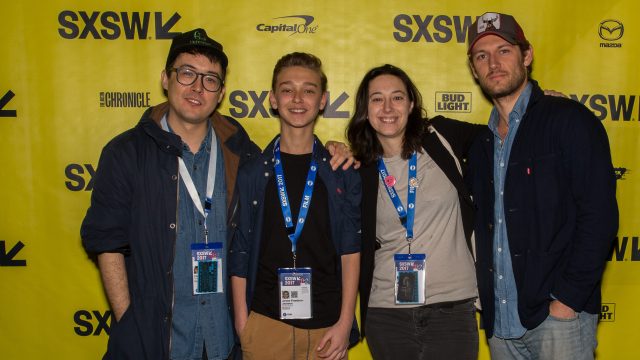 To commemorate the 25th edition of the SXSW Film Festival, we continue our weekly alumni spotlight on careers launched, artists discovered, powerful performances, and more with filmmaker Lauren Wolkstein.
Wolkstein has had numerous short films play at the SXSW Film Festival including her jury award-winning narrative short Cigarette Candy (2010), The Strange Ones (2011, co-directed by Christopher Radcliff), and Jonathan's Chest (2014, producer/editor). At SXSW 2016, Wolkstein and four other directors created collective:unconscious, a unique anthology of short films based on their dreams. Wolkstein directed Beemus and It'll End in Tears for the anthology. In 2017, Wolkstein and Radcliff re-teamed to premiere their debut feature, an adaptation of their 2011 short, The Strange Ones. The film played in Narrative Feature Competition and earned a Special Jury Recognition for Best Breakthrough Performance for James-Freedson Jackson. The Strange Ones is available to watch digitally.
We are excited to share her #SXSWFilm25 story with you:
"I honestly don't know where I would be right now without SXSW; it has shaped my career into what it is today. SXSW programmed my Columbia MFA thesis film Cigarette Candy, which won the Narrative Jury Award for Best Short Film in 2010. This moment changed everything for me and it was the first time people started seriously taking notice of me as a filmmaker.
Since then, SXSW has been an unwavering champion of my work – from short films to SXSW bumpers to omnibus features to my first feature film, The Strange Ones, that premiered at SXSW this past year. Janet Pierson, Claudette Godfrey, Jarod Neece, and everyone at SXSW are tireless champions of emerging artists and love discovering new talent. They have created an incredibly holistic space for an inspiring community of independent filmmakers to collaborate and celebrate the spirit of exceptional visual storytelling year after year. I have met all of my favorite collaborators and friends at SXSW. Not to mention, I met our soon-to-be baby daddy at my first SXSW. Imagine the SXSW onesies we're going to purchase. TMI? Spring in Austin – It's my favorite time of the year."
Join Us For SXSW 2018
Grab your Film Badge today for primary access to all SXSW Film events including world premieres, roundtables, workshops, and parties. Register to attend by Friday, February 9 and save. Book your hotel through SXSW Housing & Travel for the best available rates.
Follow us on Facebook, Twitter, Instagram, and SXSW News for the latest SXSW coverage, announcements, and updates.
See you in March!
The Strange Ones Photo by – Sean Kennedy
The post 25 Years of SXSW Film Festival – Lauren Wolkstein appeared first on SXSW.