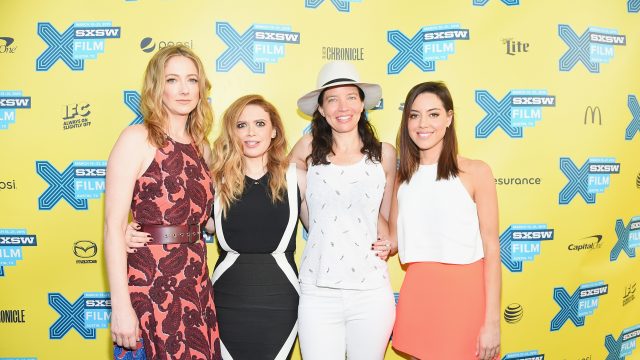 To commemorate the 25th edition of the SXSW Film Festival, we continue our weekly alumni spotlight on careers launched, artists discovered, powerful performances, and more with filmmaker Jamie Babbit.
After her groundbreaking debut film But, I'm a Cheerleader, Babbit world premiered her third feature, The Itty Bitty Titty Committee at SXSW 2007, where it earned the Grand Jury Award for Narrative Feature Competition. In 2015, she brought her ensemble dark comedy Fresno, starring Natasha Lyonne, Judy Greer, Molly Shannon, Fred Armisen, Ron Livingston, and Aubrey Plaza. Babbit has worked consistently in television and directed multiple of episodes of hit television series such as, Gilmore Girls, Looking, Girls, Silicon Valley (also co-executive producer), and more!
We are pleased to share her #SXSWFilm 25 story with you.
"I love SXSW because I made a film about a ragtag punk group of ladies who blow up phallic symbols in DC (The Itty Bitty Titty Committee) and not only did SXSW show it, but the jury gave us an award. The SXSW audiences are fearless and the programmers aren't scared to show some out there films.
I'll never forget that at our Itty Bitty Titty Committee premiere at The Alamo Drafthouse, a petite shy woman whom I would NEVER think would like this punk film just started crying as she came up to me afterwards whispering 'it's just so empowering'. This encounter is why I make movies. Thank you, SXSW!"
Stay tuned to SXSW News each week for more 25th edition stories.
Join Us For SXSW 2018
Grab your Film Badge today for primary access to all SXSW Film events including world premieres, roundtables, workshops, and parties. Register to attend by Friday, January 12 and save. Book your hotel through SXSW Housing & Travel for the best available rates.
Stay tuned for the 2018 SXSW Film Festival lineup which will be announced in January.
Follow us on Facebook, Twitter, Instagram, and SXSW News for the latest SXSW coverage, announcements, and updates.
See you in March!

World Premiere of Fresno at SXSW 2015 – Photo by Michael Loccisano/Getty Images for SXSW
The post 25 Years of SXSW Film Festival – Jamie Babbit appeared first on SXSW.