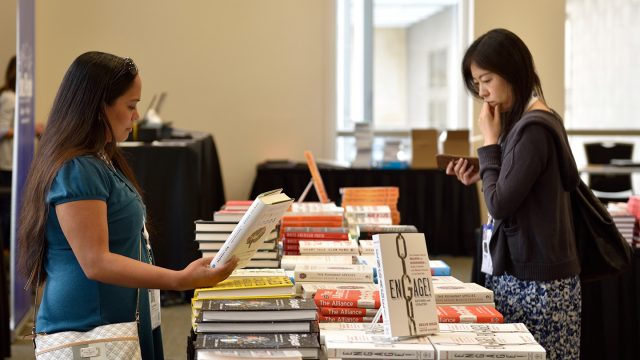 Looking for the perfect reading list to start 2019 off on the right foot? Read on to learn about the thought leaders joining us this March at SXSW and add their latest books to your reading list.
The SXSW Conference highlights some of the most inspirational thinkers and industry experts across 25 Tracks of SXSW-curated programming. Hear from a multitude of visionary storytellers on what's next in the worlds of film, culture, music, and technology during Conference sessions. Then meet your favorite authors and speakers during book signings at the SXSW Bookstore. With hundreds of titles from SXSW and SXSW EDU speakers, the SXSW Bookstore offers a convenient opportunity to network and pick up copies of your favorite speakers' books.
10 Books by SXSW 2019 Speakers
Rock-and-Roll Woman – Meredith Ochs
From Sister Rosetta Tharpe to Brittany Howard, author and NPR radio commentator Meredith Ochs discusses "rock and roll leadership" as exemplified by some of music's most influential women artists.
The Age of Smart Information – M. Pell
By combining AI and AR, we are fundamentally transforming the very nature of information, and the myriad ways we communicate with each other. Deceptively powerful and stunningly beautiful, this monumental leap forward in conveying information has always been right there in front of us, waiting to be unlocked, hiding in plain sight. All it took was the convergence of human ingenuity, artificial intelligence, and the rise of a medium capable of magic.
Wise Guy – Lessons from Tech, Startups, and Silicon Valley – Guy Kawasaki
Wise Guy is the Silicon Valley icon and bestselling author Guy Kawasaki's unlikely life story, and the lessons we can all take from it. Each anecdote – such as the time Guy was mistaken for Jackie Chan; how he learned when to shut up and when to ask for help; how he discovered the power of other people's success; and how raising four kids influenced his approach to business – is accompanied by a brief "Wisdom" section of practical takeaways.
Be Fearless – Jean Case
Jean Case shares the five surprising traits great changemakers have all had in common, so individuals and organizations can learn how they too can spark remarkable breakthroughs that change the world.
A New Reality: Hope for a World in Transition – Jonathan Salk
We are moving from an era when there were few limits on societal, economic, and population growth to one in which there are limits and in which growth will necessarily slow. In the process, values such as competition, independence, and unrestrained exploitation of resources will be replaced by those of cooperation, interdependence, and sustainability. The conflict and confusion that we see in the world today is a manifestation of that shift. In successfully navigating this transition, we will not only assure our survival as a species, we will enter a period of greater health, well-being and satisfaction than we have ever known. Learn more in this new and exciting work from Dr. Jonathan Salk, son of Jonas Salk, developer of the Polio vaccine.
Lean Impact for Radically Greater Social Good – Ann Mei Chang
The Lean Startup has revolutionized the ways businesses build and launch products. Can these same techniques work for purpose as well as profits? Despite some unique challenges, the answer is a resounding yes. Around the world, social entrepreneurs are tossing aside rigid programming and embracing fast feedback loops to revolutionize learning in the classroom, help tens of thousands of disadvantaged youth land their first jobs, light up a million homes in rural Africa, and enable millions to escape the ravages of extreme poverty.
The Promise of Blockchain: Hope and Hype – Jason Schenker
Blockchain technology offers tremendous hope and promise to drastically improve data transparency and data sharing, as well as reduce the risk of a central point of failure for corporate, government, and private entities. But there is also significant hype around blockchain that has been driven by the bubble in cryptocurrency investments and people who don't want to miss out on the next wave of new technology. What will determine the future of blockchain – the hope or the hype?
Bring Your Human to Work – Erica Keswin
In this dynamic presentation, author and workplace expert Erica Keswin shares her research from the last decade of studying the science and stories of relationships at work. She begins by outlining ten sure-fire ways people can "bring their human to work," then focuses on three concrete strategies that will transform any workplace culture into one that honors relationships.
How To Put Empathy into Business and AI – Minter Dial
Empathy is one of the most untapped levers of productivity in business. For companies undergoing digital transformation and becoming more customer centric, it will be the new microprocessor for your organization's operating system. We'll look at the major challenges, including ethical issues, related to embedding and encoding empathy into your organization and Artificial Intelligence.
Irrational Loyalty. Branding to Win in a "Brand" New World – Deb Gabor
Why do some brand-customer relationships endure, and others don't? In human relationships, there are scientific reasons why relationships go south when one of the partners trades the rose colored glasses in for sweatpants. The same is true for brands. Deb Gabor shares highlights from her new book: Irrational Loyalty. Branding to Win in a "Brand" New World.
Anything for a Hit: #MeToo in the Music Industry – Dorothy Carvello
As the first female A&R executive at Atlantic Records, Dorothy Carvello has a career marked with success but dampened by abuse and sexual harassment by the male kingmakers of the music industry. Carvello will provide commentary on how to be successful in a male-dominated industry and how to use your voice in today's #MeToo movement. She'll also discuss how we can't continue to divide up into men and women and need to create a culture of support and music that matters.
Join Us for SXSW 2019
If you're as excited about the authors in this reading list as we are, join us this March to learn from them and get inspired by a multitude of diverse visionaries at SXSW 2019. Register to attend to join us March 8-17, 2019 in Austin, Texas for another exciting event – with more book readings and signings in store!
Follow us on Facebook, Twitter, Instagram, and SXSW News for the latest SXSW coverage and 2019 updates.
Photo by Melanie DeMartinis
The post 10 Books to Read in 2019 by SXSW Speakers appeared first on SXSW.