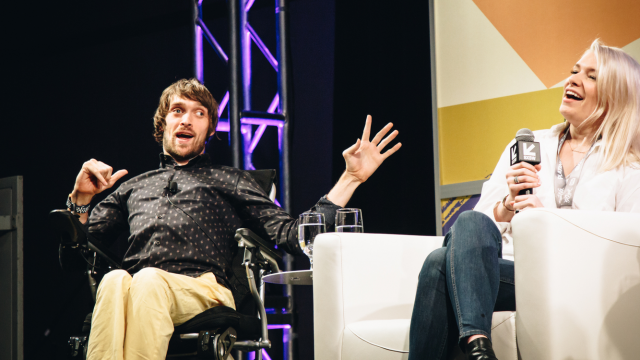 Zach Anner is a comedian, actor, writer, and SXSW alum. In 2012, he was one of five local filmmakers to create film bumpers for the SXSW Film Festival. He starred and directed in Saving Seats and Q&A-hole. In 2016, he spoke at the SXSW Conference in a session titled The Art of Starting From Nothing which explored how to make and market online content that's original, sustainable, and shareable. Returning in 2018, Anner was a part of the Featured Session Inside the Modern Day Writers' Room with Kendall McKinnon (Eyewitness) and Shintaro Shimosawa (The Walking Dead and Fear of the Walking Dead).
Read about Zach Anner's experiences with SXSW below and find out how you can be a part of SXSW 2020!
"I first came to SXSW Film Festival in 2002 as a seventeen-year-old high school dropout with an uncertain future. But that magical week hopping back and forth between the Paramount and the Alamo Drafthouse changed my perspective altogether, not only on movies, but also on my life. I saw 28 films in seven days and, for the first time, I also saw a path forward to pursuing my passions. It was the moment when becoming a filmmaker stopped being some unattainable dream and started feeling accessible. Because if the Duplass Brothers could make The Puffy Chair on the same camera that my dad had at home, then maybe a kid with cerebral palsy from Buffalo, NY could make a movie one day, too.
What I loved about the SXSW Film Festival then, as now, is that there is no rigid definition of which movies have value and which ones don't. It's is a place where Judd Apatow's latest big budget comedy, tiny indie films, and experimental shorts with singing vaginas can all be appreciated on their own merit. SX has always focused on championing authenticity from a diverse group of voices, and the only criteria that matters is if the stories they're telling will be either fun or challenging to an audience. The nurturing culture of inclusivity Janet Pierson and the SXSW team provide has kickstarted countless careers and shaped my own in more ways than I can count. Their ability to recognize that, in a filmmaker's journey, potential is as important as mastery, is what makes the festival so special.
If you would have told me when I came to Austin for the first time sixteen years ago that I'd be speaking on panels, giving young writers and filmmakers advice, and showing up to work on a studio lot in Los Angeles every day, I'd have told you, 'You're absolutely correct. That sounds right.' And I would have been full of shit. I had no clue how to make a career out of a love for movies. But before I was a network television writer and show host, I was chasing down interviews at SXSW for the University of Texas Student TV Station, handing out postcards promoting the documentary I'd worked on with John Pierson's advanced producing class, and long before anyone had any idea who I was or cared about what I had to say, SXSW was screening my amateur short films.
"There's no experience quite like watching a movie with a SXSW audience."
I don't know that I've ever felt more at home than when I'm sitting in the back row of the Alamo Drafthouse with a theatre full of people who have spent all week watching films and are still game to experience two hours of whatever madness awaits at the last Midnight Shorts screening of the festival. The SXSW family isn't the one I was born into, but it does feel like the one I was born to be a part of." – Zach Anner
Apply to Participate
Film submissions are now open for feature film, short, episodic, or VR/AR/MR projects! Explore more ways to participate at SXSW here.
Mark your calendars for August 1 when registration and housing opens for the 2020 SXSW season. In the meantime, get inspired by previous Keynotes, Featured Sessions, Red Carpets, and Q&A's on our YouTube Channel.
Follow us on Facebook, Twitter, Instagram, and SXSW News to stay current with all things SXSW.
See you in March!
Inside the Modern Day Writer's Room – Photo by Kaylin Balderrama
The post Writer Zach Anner on Making a Career Out of Love for Movies appeared first on SXSW.