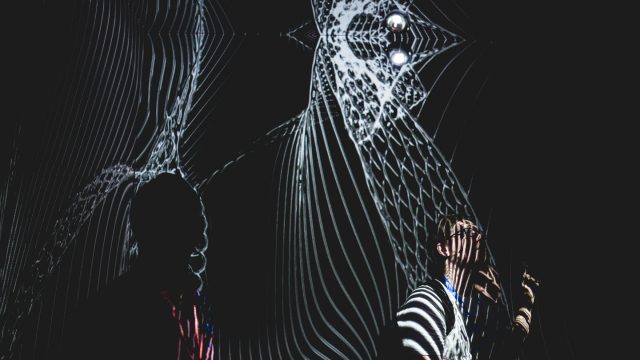 Each year, SXSW selects a group of artists to showcase innovative and experiential bodies of work as part of the SXSW Art Program. As we near the early entry deadline on September 20, explore Art Program alumni to gain inspiration for your application and preview what could be in store for SXSW 2020.
The purpose of the Art Program is to provide a landscape for creatives to discover and discuss the role of digital and visual media in our lives and culture. Both emerging and established artists are encouraged to apply with works that merge art and technology, or create an experience, whether through immersion or social engagement. Official bodies of art are selected that enhance the SXSW experience as a whole and offer attendees realms to discover and explore.
Send in your 2020 SXSW Art Program application now through the Early Deadline on September 20. Check out some of our past participants below – read about their bodies of work and view their installations.
SXSW Art Program Alumni
Weaving by Cocolab, 2019
Weaving is a light art performance from the Mexican firm Cocolab. Inspired by the creation of textiles in Mexico through looms, the audiovisual installation uses a large "canvas" made out of strings of light as a medium of expression. Weaving is also a reminder that art and technology have existed together since the beginning of our culture.
EVERY THING EVERY TIME by Naho Matsuda, 2019
EVERY THING EVERY TIME transforms urban data into poetry presented on a mesmerizing, large-scale mechanical screen. EVERY THING EVERY TIME draws on data streams generated by the many events that happen each day in Austin. Passersby can watch as poetry is written in real time and revealed on a split-flap display. The artwork investigates concepts of the 'smart city', questioning notions of privacy, use and the role data has in our lives.
Conductors and Resistance by Ronen Sharabani, 2018
Conductors of Resistance depicts remnants of woolen yarn and electric wires insinuating structured confusion atwix conductors to resistance. It calls for viewers' intervention in conflicted situations.
FEAST by Caitlin Pickall, 2018
Caitlin Pickall's interactive multimedia installation FEAST serves up a dynamic program exploring the cultivation, preparation, and consumption of food on a projection-mapped communal table.
Infinity Room by Refik Anadol, 2017
In this project, 'infinity' was chosen as a concept, a radical effort to deconstruct the framework of this illusory space and transgress the normal boundaries of the viewing experience. The Infinity Room sets out to transform the conventional flat cinema projection screen into a three dimensional kinetic and architectonic space of visualization by using contemporary algorithms.
ANIMA by Nick Verstand, 2016
ANIMA is an interactive installation with a three-dimensional sphere that investigates communication between humans and an artificial intelligence. Interpreting body movements, ANIMA responds with an array of audiovisual expressions. This abstract form challenges our premise for communication as it creates a playful environment for us to investigate challenging questions. How do we relate to something different from ourselves?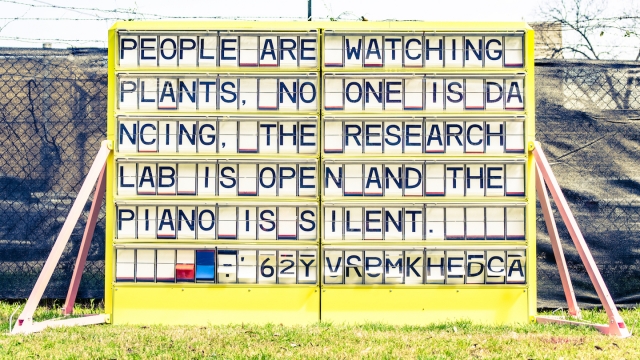 Apply to Showcase Your Art
Ready to show your art to the city of Austin? Apply by the Early Deadline on September 20, 2019 at 11:59pm PT. If you need more time to finalize your application, the Final Deadline is October 11, 2019. We can't wait to see what you have been working on.
Join Us in March 2020
Registration and housing are now open for the 2020 SXSW season. Make your plans now to join us in March 2020. Book your hotel early through SXSW Housing & Travel for the best rates and locations.
SXSW values fostering creative and professional growth for students, artists, and industry professionals alike. Currently enrolled students may apply to purchase a SXSW Interactive, SXSW Film, or SXSW Music Badge at a special discounted price. And if you need help convincing your boss to send you to SXSW, we've got you covered.
Follow us on Twitter, Facebook, LinkedIn, Instagram, and SXSW News for the latest SXSW coverage.
Infinity Room – Photo by Sara Marjorie Strick
The post Urban Data Poetry, Humans & AI, and Exploring Food Consumption: SXSW Art Program Alumni appeared first on SXSW.