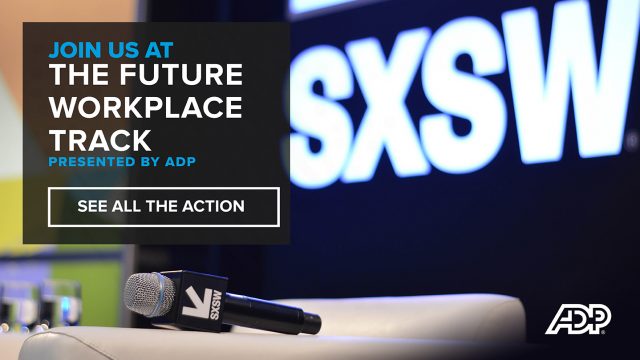 If you're headed to Austin looking for the latest in topics covering career development, work-life balance, co-working, future of work, diversity, inclusion, HR issues, and employee rights in an ever-changing working environment, you've found the right place! With so much insight and so little time, here's our list for the top 5 things you won't want to miss during this year's Future Workplace Track sponsored by ADP:
1. Keepin' it Real to Keep Real (Good) People
Today as many as 60 percent of U.S. employees are actively looking for a new job. Are you doing enough to keep your most valuable people happy and productive? In this session, we'll explore real-life examples of why tenured employees leave a company, and what could have changed the outcome. Click here to favorite this session with business anthropologist, Martha Bird, taking place 3/9 from 5-6pm.
2. The Commons: Relax, Recharge and Reconnect
Our lounge, located in the JW Marriott where all the speaking tracks will be held, is THE place to be — whether you're looking to relax and soak in the learnings from the day, recharge at our hydration station and sample some snacks or grab some insightful workplace reading material from our library wall. Don't miss our social/interactive experiences including a live mural, and collaborate with other workforce leaders. There will be lots of swag to remember us by and adorn your desk with back home, so be sure to stop by.
3. The Feedback Fallacy — Chat with Marcus Buckingham, NYT Best-Selling Author, Head of People and Performance Research, ADP Research Institute
It is a truth universally acknowledged: Feedback for each and every one of us at work is a good thing, and that more feedback is an even better thing. As a result, today we are blessed with upward feedback, downward feedback, peer feedback, 360-degree feedback, performance feedback, developmental feedback, constructive feedback, solicited, unsolicited, and anonymous feedback, and with all of these flavors and variants a cottage industry of classes to teach us both how to give this feedback and how to receive it with grace and equanimity. This universal truth, however, is actually a lie. Join Marcus at 3/9 at 1pm in The Commons to discuss.
4. Building a 21st Century Workforce and the Impact of Data on the Modern Workplace
Join Jeff Wald, SVP and Co-founder of Workmarket, an ADP Company, for an intimate discussion about the gig economy and building a 21st century workforce. Click here to read a recent Forbes article published by Jeff. You'll find him in The Commons on 3/8 and 3/11 @ 1pm.
Additionally, on 3/10 @ 1pm, make your way to The Commons where Jack Berkowitz and Marc Rind will be talking about data and its impact on the modern workplace. Join Brian Michaud, SVP of TotalSource, along with a SXSW programming expert to discuss an event wrap up from the Future Workplace track to address highlights of the week including trends to watch out for in 2019. You'll find him in The Commons on 3/12 @ 1pm.
5. Breaking Barriers in Partnership with Wired Magazine
While this interactive exhibit isn't located in the JW Marriott, it's a can't miss while you're at SXSW. Visit us at the Empire Control Room on March 8-10 from 12-6pm where you'll choose one of four work barriers (ex. Work Life Balance) that are holding back businesses / employee success. You'll be filmed physically "breaking" through the barrier and given the video for social sharing.
If you're looking for additional insights on workplace challenges including compliance, employer/employee dynamics, work-life balance, future of work, diversity, inclusion, and more, please visit our blog. How about starting here: Are you prepared for these 2019 Workforce Trends? We're looking forward to seeing you at SXSW!
Sponsored content and photo provided by ADP
The post Top 5 Things You Won't Want to Miss at This Year's Future Workplace Track appeared first on SXSW.