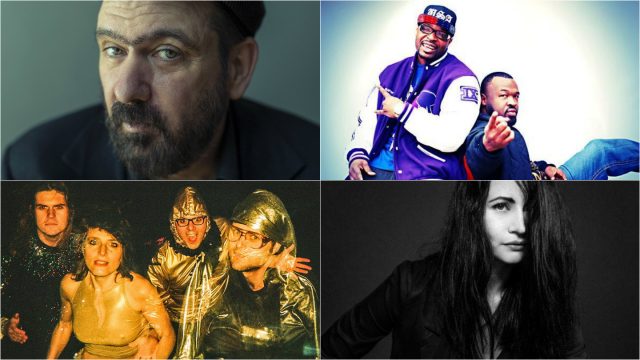 Happy first week of February! I've never been good at keeping information to myself, so I might as well share this week's addition of Showcasing Artists and Music Speakers. Plus, you're just dying to know who to look for once SXSW is here, right?
This week's batch of music-focused Conference programming consists of our Mentor Sessions, where you'll have the opportunity to meet with the faces of the music industry, such as Jennifer Masset of Spotify and Michael Addicott of Pandora. We're also excited to announce we'll be providing a variety of Talk20s, where our speakers cram presentations, covering topics from how to grow your platform to artivism, into 20-minute sessions.
Our Showcasing Artist announcement includes a little something for everyone. Rockers, treat yourself to the sounds of Frankie Rose and Protex. Psych fans, turn your ears towards The Bright Light Social Hour. Start the party with the flowing beats of Alex Wiley, then wind down to the soothing voice of Mark Eitzel.
A final announcement for all music lovers: the SXSW Film Festival has released its Features Lineup, which includes the screening section 24 Beats Per Second. Discover the world behind music through our selection of documentaries!
If you can't wait until March for the music, tune into SXSWfm and our weekly Spotify playlist to get an early taste of the SXSW experience.
If you can't wait for SXSW Music events, we don't have a way to access those ahead of time, but register today and you can attend our sessions, showcases, parties, and many more events in person next month!
New 2017 Conference Additions (Music)
Mentor Sessions
Wednesday, March 15
Thursday, March 16
Friday, March 17
Saturday, March 18
Talk20s
Music Industry Development for Diverse Communities
How Your Journey Can Grow Your Platform
Spiritual Pilgrimage at SXSW: Demigods & Devotees
Asian Blues: How Desi Sound is Shaping New Music
Should Classic Rock Artists Record New Music?
Music & Commerce: Licensing Music for Social Media
A Guide To Pursuing Passion Endeavors
Artivism with Malcolm London

Panel
Americana Without Borders
New 2017 Showcasing Artist Additions
Al Lover (San Francisco CA)
Annabelle Chairlegs (Austin TX)
Tje Austin (Austin TX)
Ayo Jay (Lagos LA)
The Band Called Fuse (New York NY)
Ant Beale (Gloucester city NJ)
Beard the Lion (Austin TX)
BeLL (Los Angeles CA)
BIA (Boston MA)
Jade Bird (London UK-ENGLAND)
Charly Black (Trelawny JAMAICA)
The Bright Light Social Hour (Austin TX)
Broncho (Tulsa OK)
Dylan Cameron (Austin TX)
Chantae Cann (Atlanta GA)
Garrett T. Capps (San Antonio TX)
CB5 (Clevland OH)
Chicano Batman (Los Angeles CA)
Beth Chrisman (Austin TX)
Country Cousins (Austin TX)
Dams of the West (Upper Freehold Township NJ)
Danny Golden (Austin TX)
Jesse Dayton (Austin TX)
Deap Vally (Los Angeles CA)
Death Will Tremble (Austin TX)
Del Paxton (Buffalo NY)
Alvaro Diaz (San Juan PUERTO RICO)
DJ Versus (Austin TX)
Dopebyaccident (Memphis TN)
Eisley (Tyler TX)
Mark Eitzel (Los Angeles CA)
Javier Escovedo (Lodi CA)
Everyone Is Dirty (Oakland CA)
Deniro Farrar (Charlotte NC)
Feralucia (Medellín COLOMBIA)
Carl Fontaine (Akron OH)
Free Radicals (Houston TX)
Fully Focus (Atlanta GA)
Jon Dee Graham (Austin TX)
Grandpa Death Experience (Amsterdam NETHERLANDS)
GT (Birmingham AL)
Hand Habits (Los Angeles CA)
Houses of Heaven (San Francisco CA)
Infinity Shred (New York NY)
In The Valley Below (Grand Rapids MI)
Jazzamboka (Montréal CANADA)
Jim-E-O (Austin TX)
J. Monty (Jonesboro GA)
Karakoram (Santiago CHILE)
Karlon (Bronx NY)
Kat&Jared (Temple TX)
Julian King (Philadelphia PA)
KP tha Profit (San Antonio TX)
The Legendary Ils Sont Partis Band (BUCKWHEAT ZYDECO BAND) (Lafayette LA)
Los Outsaiders (Lima PERU)
Erick Lottary (Fayetteville NC)
Lovella (Nashville TN)
Madame Récamier (Mexico City MEXICO)
M.A.D.E 4 Christ (Atlanta GA)
Majozi (Cape Town SOUTH AFRICA)
MAMA (Chicago IL)
Mama K & The Shades (Austin TX)
Austin Martin (Austin TX)
Meatbodies (Los Angeles CA)
Melkbelly (Chicago IL)
Rich Minus Tribute with Eric Hisaw (San Antonio TX)
Mise en Scene (Winnipeg CANADA)
Miyavi (Tokyo JAPAN)
Mobsquad Nard (Jacksonville FL)
Moby Grape's Peter Lewis (San Francisco CA)
Modern Vices (Chicago IL)
Mother Falcon (Austin TX)
Mula Gang (Sacramento CA)
Only Now (San Francisco CA)
OSHUN (Brooklyn NY)
Paradox Black (Dox) (San Jose CA)
Grace Park (of The Deer) (San Marcos TX)
PLS&TY (Palm Beach FL)
Protex (Belfast UK-N. IRELAND)
Pujol (Nashville TN)
Queen of Jeans (Philadelphia PA)
Question (San Antonio TX)
Rap Legend Jesse Dangerously (Ottawa CANADA)
Emily Reo (Brooklyn NY)
Reonda (Brooklyn NY)
The Reputations (Austin TX)
Glenn Rexach Group (Austin TX)
Graham Reynolds & Golden Arm Trio (Austin TX)
Ringworm (Cleveland OH)
Chris Rivers (Bronx NY)
Robotaki (Toronto CANADA)
Roj Müzik (Mercin TURKEY)
Frankie Rose (Brooklyn NY)
Ruido Rosa (Mexico City MEXICO)
Samito (Montréal CANADA)
Cal Scruby (Cincinnati OH)
Sextile (Los Angeles CA)
Shonlock (Acworth GA)
Show Louis (Houston TX)
Silverio (Mexico City MEXICO)
Snail Mail (Baltimore MD)
Son Fjord (Austin TX)
Sound Mass (Austin TX)
Alexis Spight (Buffalo NY)
Statik Selektah (Brooklyn NY)
Steve James (Johnstown PA)
St. Lenox (Brooklyn NY)
Sungod (Austin TX)
Supraman (Austin TX)
Telephone Lovers (Long Beach CA)
Tombs (New York NY)
To Whom It May (Galveston TX)
Twist (Toronto CANADA)
Jarreau Vandal (Amsterdam NETHERLANDS)
The Wagoneers (Austin TX)
Sara Watkins (Los Angeles CA)
We Are Wolves (Montréal CANADA)
Welles (Fayetteville AR)
Western Star (Baltimore MD)
Alex Wiley (Chicago IL)
Anna Wise (Brooklyn NY)
Woody (Delft NETHERLANDS)
The World Over (Los Angeles CA)
YodaSlim (Dallas TX)
Young M.A (Brooklyn NY)
ytcracker (Colorado Springs CO)

Everything subject to change
Photo credits, clockwise from top left:
Mark Eitzel by Mark Holthusen
Country Cousins by Thomas Fawcett
Frankie Rose courtesy of the artist
Everyone Is Dirty by Ginger Fierstein
The post SXSW Music Weekly Round-Up: Mentors, Music Films, Mark Eitzel, Protex, Chicano Batman & More appeared first on SXSW.