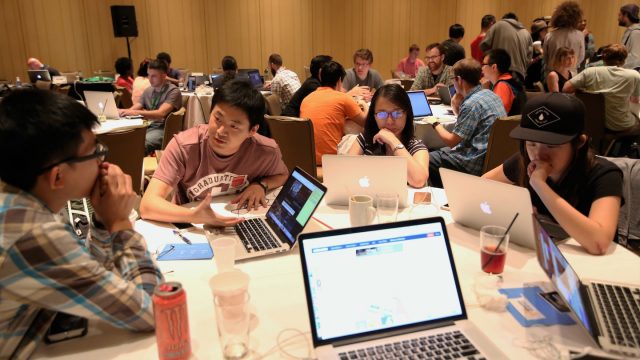 We've got some exciting new updates to our 2017 SXSW Hackathon. If it's your first time hearing about Hackathon, you may want to get up to speed here.
In addition to mentoring sessions, SXSW will be offering $2000 cash prizes to each of the winning teams in these three categories: Music, Film, and VR/AR.
We've also got some news from Supporting sponsors:​ SOCAN and MapQuest ​will be offering ​cash and product prize​s​ to teams for best use of their API​s as well. For the first time, IBM technical experts will be on hand to help SXSW Hackathon teams use Hyperledger Fabric, an exciting blockchain technology.
​And new for 2017, we've got a fun tweak to the program for competing teams. At the conclusion of our 24-hour SXSW Hackathon, teams will show off their new music, film, and VR/AR creations science fair-style​, with the winning teams presenting and prizes awarded in front of an audience of SXSW registrants and judges, including Josh Constine (Techcrunch), Robert Scoble (Transformation Group VR), Santiago Rodriguez (Andreessen Horowitz), Ann Greenberg (Sceneplay, Gracenote), David Dufresne (500 Startups Canada), Gigi Johnson (UCLA Center for Music Innovation), Benji Rogers (Dot Blockchain, Pledge Music).
And to round it all out, Square will be hosting the official SXSW Hackathon After Party on March 15 from 5-8pm. Open to all SXSW badges and Hackathon participants.
The post SXSW Hackathon Updates: Prizes and Official After Party appeared first on SXSW.