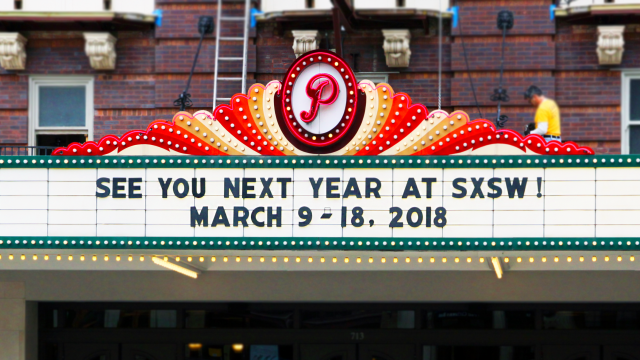 That's a wrap on the 2017 SXSW Conference & Festivals! We are so pleased to have shared another incredible event with all the registrants, crew, staff, volunteers, artists, speakers, filmmakers, and the wonderful folks of our hometown, Austin, TX.
Across the 24 programming tracks and emerging trends at the 2017 SXSW Conference, each session presented a snapshot of the most transformative ideas shaping our future from tech industry leaders, filmmakers, rock legends, journalists, entrepreneurs, and more. The SXSW Festivals also provided a unique opportunity to explore the worlds of Interactive, Film, Music, and Comedy with screenings, showcasing acts, networking experiences, and beyond.
From Vice President Joe Biden's SXSW Conference session, Garth Brooks' performance at the SXSW Outdoor Stage, and the world premiere of Terrence Malick's Song to Song to hundreds of Trade Show exhibitors, SXSW Gaming tournaments, and prestigious award ceremonies – SXSW 2017 was packed with so much to explore, learn, discover, cut a rug to, and leave inspired. We hope you enjoyed each exciting moment.
Now begins the preparation for 2018, and we look forward to seeing you again next year from March 9-18, 2018. Stay tuned for registration information coming later this summer. In the meantime, curb your SXSW withdrawals and relive all the exciting Keynotes, Featured Sessions, screenings, showcases, and more on the SXSW YouTube Channel. Starting in April, full-length videos from Featured Speaker sessions will be released each week on sxsw.com. Plus, catch up on exclusive conversations, red carpet premieres, live performances, and more from our Facebook Live Studio.
As always, stick to SXSW News, Twitter, Facebook, and Instagram for ongoing event recaps and 2018 information – including upcoming dates for 2018 PanelPicker submissions.
On behalf of all of us at the SXSW Conference & Festivals – thank you!
Photo by Shelley Hiam
---
Related News:
The post See You Next Year: SXSW 2018 Dates Announced appeared first on SXSW.