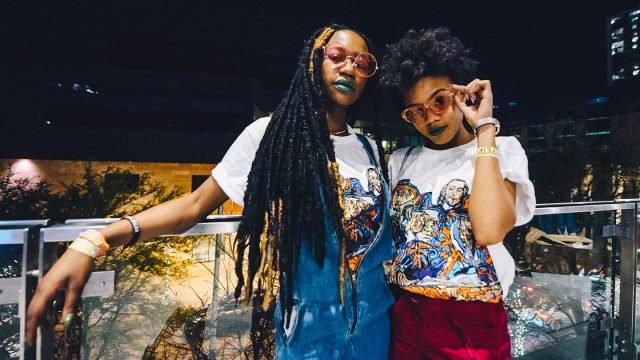 Representation matters. Seeing yourself reflected in popular culture and media can be empowering and uplifting – just as never seeing someone that looks like you can have the opposite effect. The Style & Retail Track features these conversations around diversity and inclusion as well as conversations concerning the intersection of technology and fashion and how sustainability, innovation, and customization impact the beauty industry.
Join us for more sessions in the Style & Retail Track during the SXSW Conference from March 8-11. These sessions will highlight the importance of creating the change – and how being the changemakers often leads to increased success.
Style & Retail Session Highlights
Feminist Rising: Why Brands Must Take a Stand
Someone has to spark change and today's feminists are not afraid to speak out for equality, diversity, and inclusion – and fashion brands are following their leads. Brands are engaging head on with politics and voicing their opinions outright from branded accounts, as well as advocating for inclusion by featuring people of all shapes, sizes, abilities, and identifiers on the catwalk and in advertising. Join Jennifer DaSilva, President of Berlin Cameron, Kimberly Jenkins, Part-Time Lecturer and Visiting Assistant Professor at Parsons School of Design; Pratt Institute, Becca McCharen-Tran, Founder and CEO of Chromat, and Rebecca Minkoff, Founder and Designer at Rebecca Minkoff as they discuss how they are leading the change as women-led brands that are breaking barriers and are attracting customers along the way.
Fashion's Fit Issue: Representation and Tech
The issue of fit within the fashion industry is far more complex than it would seem at first glance – it comprises the issues of innovation, sustainability, inclusive practices, representation, and economic advantage. Hear from Jessica Couch, Owner of Luxor and Finch LLC, Brittany Hicks, Planning and Ops Manager at Amazon Private Label Fashion, and Ellie Zambrano, Executive Producer of Geek of Chic, as they discuss the future of fashion tech, customization, and consumer centricity while addressing the deficit surrounding fit. Because when an industry has $64 billion worth of annual returns due to fit while also having $50 billion worth of dead inventory that is never sold resulting in 15 million tons of textile waste produced by Americans alone – the solution is going to be more complicated than just having better sizing.
How to Build a Community-Driven Cultural Brand
How do you make way for representation to even occur? This panel will break down the meaning of a culturally driven brand and cultural relevance, and discuss how modern brands can – and should – contribute to culture in meaningful ways. Daniel Habashi, Chief Marketing Officer of Soho House & Co., Kelly McCarthy, Senior VP, Director, Global Brands Communications, LVMH, and Hector Muelas, Chief Brand Officer of RIMOWA, will share how they're making way with their work including how Soho House has built one of the most exclusive and culturally relevant communities in the world, and how LVMH-owned RIMOWA is reinventing what it means to be a luxury global luggage brand with a community-first approach through recent collaborations with FENDI, Supreme, and OFF-WHITE.
The Future of Performance Apparel
No two bodies are the same, so why do athletic clothes seem to only be made with one body type in mind? Through the lens of the "science of feel" Chantelle Murnaghan, Innovation Manager at Lululemon, will discuss the real life application of "feel" through the development of the bra category. She will be answering questions such as: How does the body inform the development of performance apparel? What is movement management, and how does this allow us to perform to our greatest potential? And lastly, what is the future of personalization and performance apparel?
Blurred Lines: Beauty in a Gender Fluid World
For a long time the beauty and cosmetics industry has been focused on marketing to a narrow demographic of homogenous women – but younger generations are abandoning conventional notions of gender, empowered through the visibility provided from social media and the internet, allowing the transcending of gender-based beauty boundaries. The wider acceptance of non-binary gender identities and gender presentations is challenging the beauty industry to be more diverse and inclusive. This panel of queer beauty experts and bloggers including Ann Bradstreet Brown, Director for Global Brand Supply Chain of Bumble and Bumble, Mojo Disco, Contributor to Qwear, Anita Dolce Vita, Owner and Creative Director of dapperQ, and Christopher Sayasith, Director of International Development, Strategic Initiatives for Estee Lauder, will discuss how these changes are impacting the landscape of the beauty and cosmetics industry.
Browse More Style & Retail Sessions
Enjoy primary access to all Style & Retail Track sessions as well as other Conference Sessions with a Platinum or Interactive Badge, and secondary access to most other events.
Crossover Track Recommendations
Learn more and unlock your badge's full potential when you explore sessions on the other 25 Conference Tracks that relate back to Style & Retail:
Attend SXSW 2019
Get your SXSW Badge and reserve your hotel today to attend SXSW 2019 and experience these Conference sessions along with 10 days of screenings, showcases, exhibitions, networking, and more this March 8-17 in Austin, TX.
Follow us on Facebook, Twitter, Instagram, and SXSW News to stay current with all things SXSW.
Featured Image by Judy Won
The post Representation Matters in Style & Retail appeared first on SXSW.