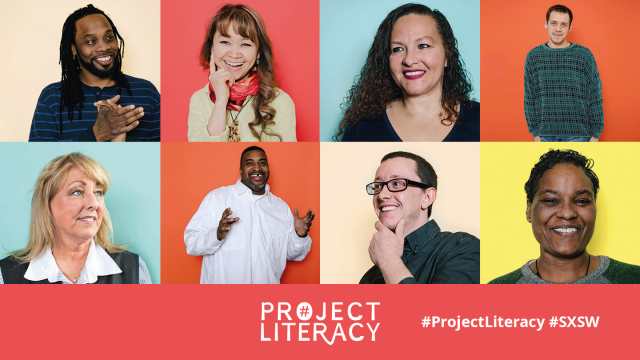 Content provided by Project Literacy
Did you know that nearly one billion adults are unable to read or write? Their struggle not only affects them, but it also affects their families and successive generations because children of parents who struggle with literacy are much less likely to feel confident supporting their children's literacy development.
But here's the good news: with your help, this cycle can be broken.
Project Literacy is proud to unveil its 2017 campaign, Give your word, at SXSW. This campaign supports adults learning to read and write. Join us for a number of exciting interactive experiences while getting to know some of the courageous adults who are learning to read and write.
Visit our Project Literacy Booth, where you can read inspiring stories from real adults learning to read and write, talk with a Project Literacy rep, and find out how you can get involved.
Project Literacy Booth & Wall of Support
Saturday, March 11 & Monday, March 13
9:00am – 6:00pm
Sunday, March 12
11:00am – 6:00pm
JW Marriott

The Project Literacy Spelling Bee brings some analog fun to the Interactive Festival, allowing you to compete in lieu of one of our newly literate heroes for a small donation to support our literacy partners. Think you've got what it takes to be crowned the SXSW spelling bee master? Come enjoy a **free happy hour and find out!
Project Literacy Spelling Bee
Sunday, March 12
5:00pm
Techspace Austin

See the premiere of our First Words film, which introduces you to our heroes, and join our distinguished keynote speakers as they discuss how technology can be used to create a virtuous cycle of literacy to ensure future generations are able to read and write.
Breaking the Cycle of Illiteracy Happy Hour with Project Literacy
Monday, March 13
11:30am
Techspace Austin

Learn more at projectliteracy.com/SXSW
---
Related News:
The post Project Literacy Wants You to "Give Your Word" appeared first on SXSW.