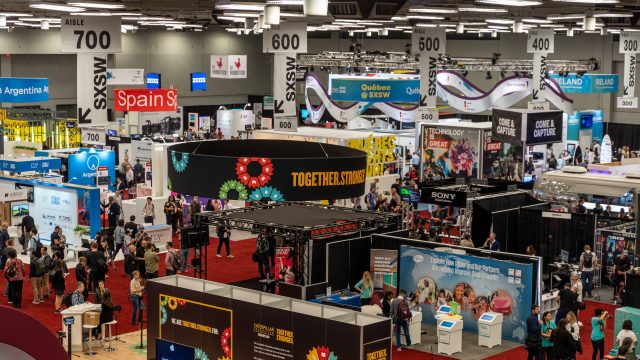 The SXSW Trade Show is back for another exciting year and is serving attendees a hands-on, experiential opportunity to get up close and personal with the latest innovations and products. Living as the largest expo at SXSW, the Trade Show does not disappoint, offering something of interest and discovery to anyone in attendance.
New for 2020, the Trade Show will feature 23 distinct pavilions, representing each of our unique Conference Tracks, plus a pavilion dedicated to International Innovations. Registrants can now attend sessions in their Track of interest, head down to the Trade Show, and engage with carefully selected brands and organizations that best align with one of SXSW's 22 Tracks of programming.
The Trade Show is the perfect hub for visual learners, trend seekers, and global discoverers. Interested in what each of the pavilions are? Look no further.
2020 Pavilions
Advertising & Brand Experience
Cannabusiness
Climate & Social Action
Connection & Culture
Creating & Monetizing Music
Design
Experiential Storytelling
Fantastic Future
Film & TV Industry
Future of Music
Game Industry
Government & Politics
Health & MedTech
International Pavilion
Making Films & Episodics
Media & Journalism
Professional Development
Space
Sports
Startups
Tech Industry & Enterprise
Workplace
XR

Think your brand is a perfect fit for one of the pavilions above? From now until November 22, take 10% off your booth price and participate in the most interactive experience of the year. Space is limited so apply to exhibit today!
Join us for SXSW from March 13-22, 2020. Check out how to attend, plan your housing, and stay up-to-date on SXSW 2020 news.
Photo by Merrick Ales
The post New for 2020: Trade Show to Feature 23 Distinct Pavilions appeared first on SXSW.