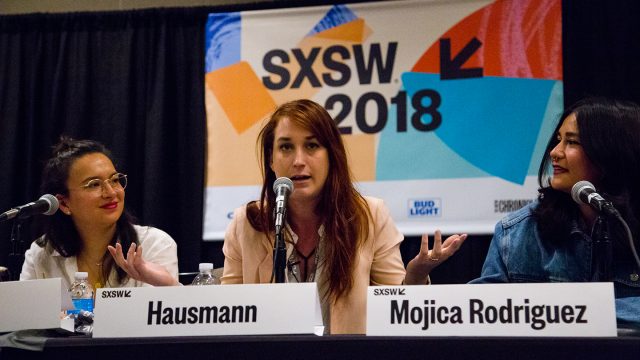 The secret to successful advertising and marketing campaigns is placing empathy squarely in the middle of decision making and using empathy to understand other cultures and languages outside our own. Being sensitive to experiences outside of ourselves creates meaningful content that reaches a larger audience and ultimately increases the success of the campaign overall.
Join us during the Brands & Marketing Track in the SXSW Conference in the Fairmont on March 11 from 5:00pm-6:00pm during our new session format, Focus15s. Focus15s feature four speakers during a one hour time block all speaking on a similar theme, topic, or trend.
These speakers will explore how to reach various communities of people through empathy.
Language Focused Session Highlights
Linguistic Kung Fu: How to Disarm Weaponized Words
Do words like "moist", "chunky", "pimple", and others have you feeling some type of way? Words have the power to influence our thoughts, feelings, and behaviors in subtle, or sometimes not so subtle, ways. Though some words cause aversion, just shrugging them off might not be keeping them from incorporating themselves into your vocabulary – for an example, I draw your attention to "fake news." In this talk, Mbiyimoh Ghogomu, Content & Copywriting Lead for Experience Design at IBM will highlight how language can be weaponized against us while asking how these linguistic assets can be so powerful in the first place. He hopes to demonstrate the power of words so listeners can learn how to harness this power and leverage it for positive change.
Dear Spanish: You're Sexist, Let's Fix That
Spanish-speaking creatives are dealing with the painful reality that their language is sexist, discriminatory, and grossly stereotypical. The good news is that creatives are trying to counteract this with their creative ingenuity. Spanish is not an inclusive, gender-neutral language, so it's hard to adapt it to the current climate. Adjectives, pronouns, and nouns are either masculine or feminine – for example, you either talk about a "niño" or a "niña," and if you want to refer to them in the plural, then "niños" takes over. This means creatives have to pay attention to every word and make magic workarounds to ensure they're actually reaching their entire target audience. Join Marina Filippelli, Chief Operating Officer & Director of Client Services at Orci, for a talk on using language in a way that doesn't alienate anyone.
South American Storytelling Beyond Stereotypes
We all know the stereotypes that exist in American culture around South American people: Carmen Miranda with a fruit basket on her head, Juan Valdez picking coffee beans with a burro, a tango dancing gaucho, etc. Though this isn't representative of life in South America at all, these images show up time and time again in marketing campaigns. What if, instead of continuing to perpetuate stereotypes, brands learn the common cultural pattern of South Americans? Through clear examples and actionable tips, Juan Ramiro Fernandez, Chief Storyteller at youniversalcontent, will examine storytelling the South American way – with not a fruit basket or tango dancing gaucho in sight.
Losing our Empathy and How to Get it Back
Our self-centered modern culture is driving new trends, as evidenced by the rise of self-care, selfies, and other solo confidence boosting practices – but all this self-focus comes at a societal cost. How is this "me-centered" perspective changing our ability to understand each other? We talk a big game about the value of empathy, but don't actually use it to understand each other. Yusuf Chuku, Chief Strategy Officer of Y&R North America, will look at where things went wrong and how we can rebuild empathy and how we can employ actionable empathy into our personal and professional lives.
Check Out the Other Brands & Marketing Focus15s
Advertising Industry
Addressing Identity
Also be sure to check out the other Focus15s across the other 25 tracks of programming.
We hope to see you in March!
Attend SXSW 2019
Get your SXSW Badge and reserve your hotel today to attend SXSW 2019 and experience these Conference sessions along with 10 days of screenings, showcases, exhibitions, networking, and more this March 8-17 in Austin, TX.
Follow us on Facebook, Twitter, Instagram, and SXSW News to stay current with all things SXSW.
Featured Image by Kit McNeil
The post Looking at Language in Advertising & Marketing appeared first on SXSW.