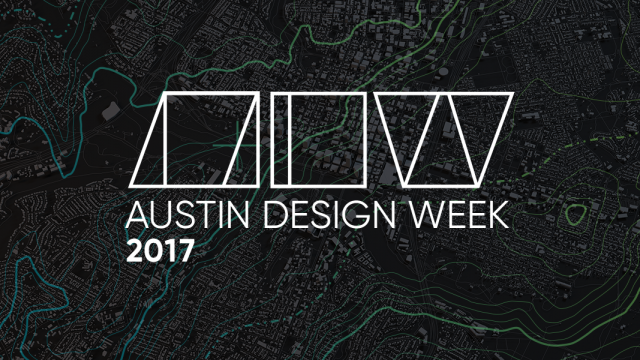 Austin Design Week 2017 is almost here!
SXSW provides a platform for designers of all disciplines to come together to share findings and new ways of practicing within the broader community of technologists and creatives who come to SXSW each March.
From the Place by Design competition to our SXSW Conference Design Track, every year we see how the power of design shapes how we interact with our world. Design is a major part of our event and we're proud to celebrate our local design community as Austin Design Week's media partner.
For the second year, Austin Design Week is celebrating the local creative community with 60 diverse events hosted by local companies, agencies, organizations, and design enthusiasts.
Beginning next week, meet the visionaries behind your favorite branding or architecture firm, get your hands dirty in an early morning workshop, or participate in a rich, town hall discussion about our community. This year, Austin Design Week is exploring how we "find place" – in our cities, our workplaces, our homes, and our communities.
Austin Design Week is completely free to the community (with RSVP), from November 6–10, 8:30am–10:00pm in various locations around Austin.
Austin Design Week Highlights
Design-a-thon
Open Monday, November 6 – Friday, November 10, 4pm-7pm
Team up and design solutions to some of the city's biggest problems.
Austin Design Week Hub
Open Monday, November 6 – Friday, November 10 , 10am–5pm
Hang out in between sessions, meet friends to head over to the next event, and grab lunch or refreshments at the Resplendent Hospitality Lounge. Also at the Hub, explore art and design installations or participate in a roundtable discussion.
Intake on the Lake: A night of Projection, Music and Design at the Iconic Seaholm Waterfront
Monday, November 6, 6pm-9pm
Join Mayor Steve Adler for the Austin Design Week kickoff with music and design.
Improving Your Urban Experience: Tactical Urbanism Immersive
Tuesday, November 7, 8:30am-10am
Learn how to use everyday tools and small DIY improvements to spark change in your urban experience.
Reclaiming Space: Equality & Placemaking
Tuesday, November 7, 6pm-9pm
Join us for a panel and short film screening that explores the ways in which gender equity impacts both our built environments and how we interact with them.
Integrating Media Arts into the Public Sphere
Thursday, November 9, 8:30am-10am
Learn best practices for launching a global creative practice in art and media.
Making Design for Good a Part of Your Career
Friday, November 10, 6pm-7pm
Join us for a discussion from individuals that have made giving back a part of their everyday lives. Join the community in building a movement for change.
Check out the full lineup and RSVP for events on the Austin Design Week website.
The post Join Us At Austin Design Week: November 6-10 appeared first on SXSW.