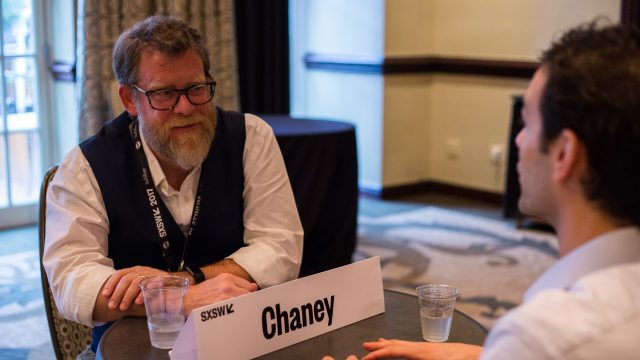 The SXSW Conference is excited to announce our third wave of Film Mentors and Round Table participants for the 2018 event. Mentor Sessions and Round Tables are SXSW Session Formats which provide an excellent way to get industry advice with a personal touch.
Mentor sessions center around one-on-one meetings with film and entertainment professionals, which range from experts in distribution and filmmaking to marketing and promotion, and more. Like the Mentor sessions, Round Tables are broken up into different sections such as Sales and Acquisitions, Publicity, and more.
Take a look back at our first wave and second wave announcements. Stay tuned for Mentors and Round Tables sign-up coming up soon.
2018 Mentors and Round Tables
Rebecca Agbe-Davis (Crackle/Sony Pictures Television)
Karen Aritkian (Berlin International Film Festival)
Opal H Bennett (Doc NYC)
Clint Bentley (Marfa Peach Company)
Jeffrey Brown
Bob Byington
Kristen Caplan (Deluxe Animation)
Allard Cantor (Epicenter)
Allison Carter
Christine Dávila (Stage 13)
Mike Fazzino (Amazon Video Direct)
Jordan Foley (Mill House Motion Pictures)
Aarón García del Real Lozano (Doqumenta)
Susana Gomes (Internationale Filmfestspiele Berlin)
Jim Hart (The Hart Chart)
Holly Jeter (WME)
David Kaplan (Animal Kingdom)
Benjamin Kasulke
Aaron Katz (Oscilloscope)
Aijah Keith (IFC Films)
Garrett Kemble (Universal Cable Productions)
Lane Kneedler (AFI Fest)
Marian Koltai-Levine (PMK-BNC)
Amanda Lebow (CAA)
Megan Leonard (Seattle International Film Festival)
Kara MacLean (K2 Publicity)
Stephanie Marin (El Camino Entertainment)
Jenn Murphy (AFI Fest and AFI Docs)
Jonny Mars
Katie McNeill (Electric City Entertainment)
Chad Miller (Cinema Machine Management)
Jongsuk Thomas Nam (Bucheon Int'l Fantastic Film Festival – BIFAN)
Ben Schwartz (Submarine)
Gerilyn Shur (Allied Intergrated Marketing)
Bec Smith (UTA)
Mark Steele (Werc Werk Works)
Joe Swanberg
Kris Swanberg
Caroline von Kühn (San Francisco Film Society)
Landon Zakheim (Sundance/Overlook Film Fest)
Follow us on Facebook, Twitter, Instagram, and SXSW News for the latest SXSW coverage, announcements, and updates.
See you in March!

Funding Artist Support Session – Photo by Kit McNeil
The post Announcing the Third Wave of 2018 SXSW Film Mentors and Round Tables appeared first on SXSW.