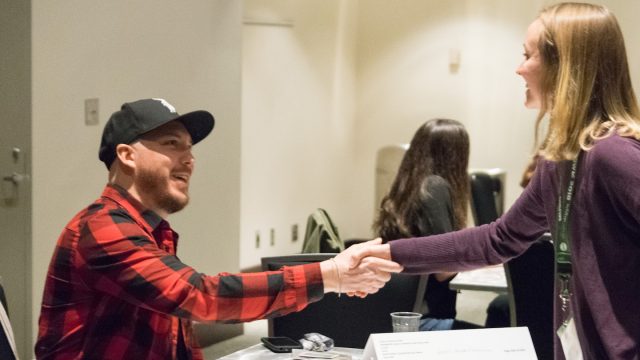 The SXSW Conference is happy to announce an additional 60 Music Mentors for 2019. Mentor Sessions offer attendees the opportunity to get advice from credible professionals in their respective fields. If you missed our first Music Mentor Session announcement, check it out here.
Mentor Sessions are focused one-on-one meetings with music industry professionals with specialties ranging from music production and synch licensing to touring and booking, artist management and production, and more. Attendees can gain valuable industry insights, career advice or feedback on specific projects from these high-level mentors.
Details on the Mentor Sessions RSVP system are coming soon. RSVP is required and access is limited to registrants with Music Badges, Platinum Badges, and Artist Wristbands.
Check out the second wave of participants:
2019 Music Tracks Mentors
Adam Gislason (Fox Rothschild)
Adrienne Lake (Heard Presents)
Amir Abbassy (Blame the Label)
Amy Lombardi (TuneCore)
Andrew Foggin (Dice)
Caroline Borolla (Clarion Call Media)
Chandler Coyle (Berklee Online)
Christine Borsellino (WMA)
Cornelis Honig (XITE)
Daniel Dymtrow (Maverick)
Danny Turner (Mood Media)
Dave Hopper (Hard 8 Working Group)
David Hirshland (BMG)
Derrick Aroh (RCA Records)
Dick Huey (Jaxsta)
Einar Pedersen (Austin Music Foundation)
Ferry Rais-Shaghaghi (APA Agency)
Frank Hill (Universal Music Group)
Hannah Gold (City Winery)
James Evans (Interscope)
Jay Coyle (Music Geek Services)
Jeff Beaulieu (Hopeful Tragedy Records)
Jeff McClusky (Jeff McClusky & Associates)
Jim Leavitt (The Orchard)
John Katovsich (Ninja Tune)
John Raso (Harry Fox Agency/Rumblefish)
Jordian Ross (Animal House)
Joshua Rabinowitz (Grey)
Joshua Zanger (Bloodshot Records)
Josiah Albertsen (Pandora)
Justin Gressley (Pias)
Justin McKenzie (Jazz Refreshed)
Kimberly Ross (Hardland Management)
Lisaann Dupont (Opry Entertainment Group)
Lou Plaia (ReverbNation)
Mahtab Ahan Neptune (Native Instruments)
Mark Allen (Recent Futures/ThinkSyncMusic)
Marla Guttman (Live Nation)
Matthew Medved (Billboard)
Michael Starr (Glassnote Records)
Michael Zimmerlich (80/20 Records)
Nan Warshaw (Bloodshot Records)
Nick Payne (SixtyFour Music)
Nicole Blonder (Desert Daze Festival)
Randall Foster (Ole' Publishing)
Rose Campbell (The Spellbound Group)
Ryan Hadlock (Bear Creek/Pulse/Cinematic)
Sam McAllister (Pitch perfect PR)
Sarah Wall (PPL)
Scott Cupolo (Warner Music Group)
Shawn Nolan (Shawn Nolan Law LLC)
Stef Pascual (Crown & Talent Media)
Stephen Hutton (Uppercut Management)
Suzanne Paulinski (The Rock/Star Advocate)
Ted Beidler (No Citrus. Management & Consulting)
Todd Porter (Hated Industries)
Travis McFetridge (Great South Bay Music)
Vanessa Kromer (Nederlander Concerts)
Yoly Avalos (Bquate)
Yvette Griffith (Jazzre:freshed)

Join Us at SXSW 2019
Interested in sitting down with one of our knowledgeable Music Mentors at SXSW 2019? Register before the January 18 deadline to save $200 on the walk-up rate and book your hotel using SXSW Housing & Travel for the best rates and locations close to the action.
Sign up for SXSW Event Updates and read SXSW News for announcements, deadline reminders, programming features, and beyond throughout the 2019 season.
Follow us on social media for daily updates – Twitter, Facebook, and Instagram.
2018 Music Industry Mentor Session – Photo by Katie Marriner
The post Announcing the Second Round of 2019 SXSW Music Mentor Sessions appeared first on SXSW.